Toddler Activities: Painting Fun
Painting
Painting with Shapes
A great way to reinforce shape recognition is to work with shapes and color in a hands on activity. Using tempera paint and pre cut shapes makes this an easy activity for even a young toddler.
---
Primary Colors
A great way to reinforce color recognition and learn about primary colors.



---
White and Primary Colors
A great way to reinforce color recognition and learn how white can change a color.



---
Styrofoam Printing
Carve a pattern or picture with a pencil and print with tempera! Pretty enough to frame.



---
Sponge Printing
This is a great method for young toddlers to get a great effect.



---
Soda Bottle and Cork Flower Prints
Make flowers with a soda bottle. Great green craft! Makes fun prints and cute cards.



---
Painting Projects
Coffee Filter Butterflies
Make pretty watercolor butterflies using coffee filters.




---

Decorate a Tote Bag
Decorate a bag using foam stamps and fabric paint. These tote bags can be found in bulk packs at most craft stores.



---
Piggy Banks
Great way to interest your child in learning about money...have them paint their own piggy banks.


---
Tiny Handprints
A precious momento at any age...baby or toddler.




---
Water Color Cards
Pretty cards to send to someone special.


Fall

Apple Stars
Great first printing activity or art activity for a unit on Fall.



---
Halloween
Halloween Cat
Paint a Halloween cat! Great activity for even young toddlers.





---
EDUCATIONAL NOTES

Great way to help develop fine motor skills while reinforcing colors, shapes, and learning how to draw.
















Custom Search
Follow Teaching Tiny Tots!




Popular Activities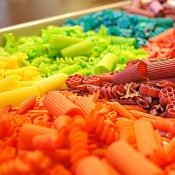 Colored Pasta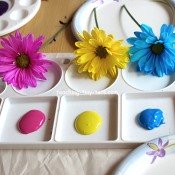 Flower Printing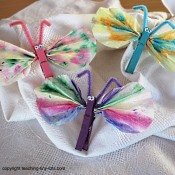 Butterflies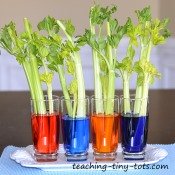 Celery Experiment