Decoupage a Trinket or Jewelry Box
Description
Using Mod Podge, magazine pages, decoupage a wooden box to make this pretty trinket box! It makes a wonderful gift too. You can use any box, even a card board box but you also can find some cute inexpensive ones from craft stores like Michaels or Hobby Lobby's that are plain wood and some have latches to open and secure the box that are ready to decorate.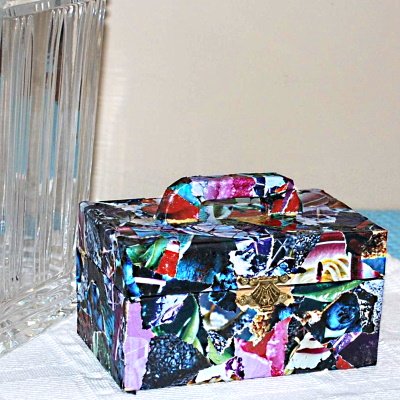 Materials to Decoupage a Box
Wooden Box
Magazine Pages of Wrapping Paper. We have even used Christmas cards.
Decoupage Glue such as Mod-Podge. It comes in Matte and Gloss
Brush or foam sponge brush
Acrylic Spray (optional but recommended for a nice gloss and protection)
Other Materials
Small dish
Newspaper to work on
Paper Towels or wet wipes for wiping fingers
Steps
Line table with newspaper.
Tear out about five or six pages from a magazine that you would like to use for a small project.
Tear into one inch pieces. For larger boxes you might want to tear into larger pieces for faster, easier coverage.
Pour glue into small dish and have paper towels or wipes on hand.
Brush glue onto one side of the box.
Put one piece of torn magazine onto the glue. Brush on top of the entire piece with glue.
Place a second piece slightly overlapping the first, brush with glue. Repeat until box is covered.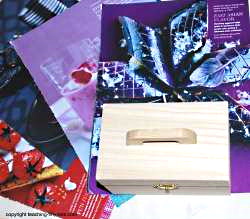 Fold pieces over the edges to hide corners and edges.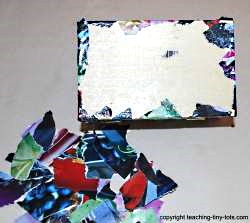 Check for missed spots and add a piece of magazine, brush over with glue.
Brush entire piece with glue and let dry. For best results brush an additional two to four coats and let dry (See individual instructions for your brand).
Rinse brush and bowl thoroughly.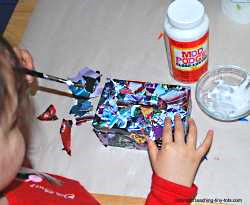 Tips and Suggestions
Find the simplest box you can for the easiest project. Handles, patterns, latches are more tricky to work around.
We found a nice assortment of unfinished wooden items at Michaels that could be decoupaged like small step stools, picture frames, heart and other shaped boxes to the more simpler one like we used.
I found it easiest for me to brush on the glue, and let the girls place the pieces of magazine. They did the final coats.
It took a little while to get the overlapping concept as they wanted to place pieces randomly or sometimes on top of another covering it so I showed them on the table how we want to place the pieces and they said, "Oh it's like a puzzle."
Spray with Acrylic Spray for additional shine.