Toddler Activities: Laying the Foundation
Toddler Activities for the Very Young
Here are some easy activities from Teaching Tiny Tots. This section includes projects for the younger child or one new to using markers, paints, and crayons. These projects will be helpful in developing fine motor skills and will help to build a routine for all activities. It will also help to develop attention span as well as introducing colors, numbers, letters, shapes in a fun and meaningful way.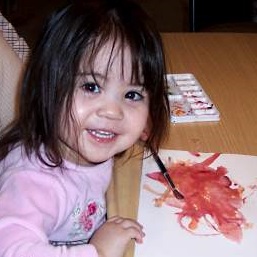 12 Months Activities
Here are a list of toddler activities appropriate for one year and up. Again some children may not be ready for all the activities but you will be surprised just how quickly they are learning at this age. Also keep in mind at this age your child may be engaged for only 5 minutes! This will continue to increase if you are consistent with how you set up, and how often you engage in an any structured activity. At this age, your child will need to be monitored at all times. We used our high chairs to sit in so that they could be safely strapped in.
Washable Crayons and Markers
See
Setting Up
for some tips. Before one year of age my twins were interested in crayons, markers, chalk. So I let them have one color at a time. Easiest method was to use a clipboard and to hold them on my lap to prevent it from marking other things and from going in their mouth. Don't worry yet about how they hold it, that will come later when they develop more strength. At first they will have very light marks with the crayon but it their fine motor skills will noticeably improve with regular coloring. Markers are a nice alternative if they are washable. I would recommend Crayola because their crayons are more vivid and they have washable ones. It is challenging for them to make marks with pressure at this age.
Fingerpainting
Another great tactile toddler activity great for introducing color...but yes it is messy. Play with it right before bath time. Edible finger paint is fun but I didn't want to confuse them with being able to eat "paint". I decided that can wait till later when they understand the difference. When we started painting activities, I first used an old table and pushed the girls strapped in their 5 point harness high chairs right up to it. We taped paper to the table. I had them wear the washable bumpkins bibs and could easily wash the high chair covers. Note: At this age you need to have everything prepared before you begin if your toddler is to be focused on the event. Remember at this age a toddler activity may consist of only 5 minutes duration.
Selections from Our Books and Toys for Young Toddlers
First Books
Learning Toys
Here is a list of some of our favorite toys
Puzzles with knobs are great for building hand eye coordination and starts developing problem solving skills.
Stacking or Nesting Cups in different colors which stack from large to small: Great bath tub toy or water table! Great for learning colors
Foam Bath Letters: (We liked the Alex Bath letters because there are two multi color sets of each letter and number 0-9)
ABC Blocks: Find a set that are at least 1.75" so it can't fit little mouths. I found a set at WalMart for about $10 and relatively lightweight. They are in great condition after 3 years! Toddler Activities with blocks: Alphabet Train, Spell Name, Simple Three letter words, Counting, Stacking.
Incrediblock had an alphabet set that was really cute with an object inside that corresponded with the letter.
Stride To Ride: Ride-Ons are always popular and will be till they ride their first trike.
Measuring Cups/Wooden Spoons: Don't forget the plastic measuring cups or wooden spoon (short handled with no rough edges) and plastic containers. Sometimes the simplest, most inexpensive object will capture their attention for a longer time than an actual toy. Just be careful vigilant when your child is playing with items that are not toys.
Mega Bloks are another great hands on toy with sets appropriate from 0-3 years of age. Great for building and a perfect opportunity to build color recognition.
Music: Another great toddler activity! Definitely helps build fine motor skills. They have little sets like with various hand held instruments or if you happen to have a Casio around this was first a favorite tummy time activity! This pic was at 10 months.
Homemade Shakers with non leaking secure tops are also fun. I used plastic baby bottles with tightly sealed covers. These need to be ensured that the items are secure in them and checked periodically if they are filled with small items like beans, rice or beads.
Click on link above to see a thumbnail profile or see below for a direct link to the arts and crafts project.We were so excited to start doing toddler activities with the girls that we started early practicing with the markers, crayons and glue sticks. By the time the girls were eighteen months they were able to complete simple arts and craft projects. Listed below are just a few examples that we did. I've taken pictures of many, many projects that were done at this age. I'll be posting more shortly.
First Painting Activities
Water Colors are one of the easiest paints to start with for young children. The results are pleasing with the blending of colors and it can be very simple but make a very pretty picture.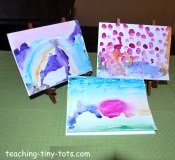 Working with Different Mediums
Cray Pas are an easy medium for young children to produce vivid colors. The pieces may break easily but sometimes those are easier for them to grasp. Until fine motor skills have developed, crayons are sometimes difficult to use.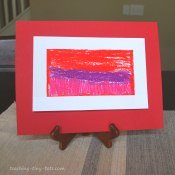 First Books We Made
Making your own books is a great way to spark interest in "reading" at a young age. They often become favorites in a classroom and at home.


First Recipes
Simple cooking activities are a great way to introduce following directions and helping to develop vocabulary! Plus its fun to make something they can eat.


Ideas to Promote Learning
Children enjoy showing their work and a bulletin board is a great way to show off special toddler activities. It tells the child that what they made means a lot to you and encourages them to want to do more. We used small pieces of packing tape at first to put up their "masterpieces" instead of push pins for safety.


Here are some tips for setting up an area and some basic supplies to keep on hand.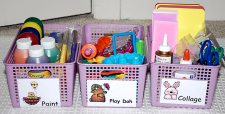 Active Toddlers?
Here are a few activities that we have put together for children who thrive in hands on environment.
Traveling with Toddlers
We have a few tips for those traveling with toddlers.