Bulletin Board: Learning Center and Showcase Work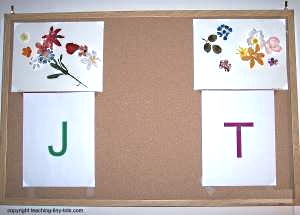 Description
Bulletin Boards are a great place to reinforce simple concepts like colors, numbers, letters, and names. A bulletin board also is a great visual learning center. It is also a great place to showcase your toddler's masterpieces. A great way to instill confidence in your child, is to show you are proud of his or her work. It also let's your child know you value "good work" by putting their best efforts on the bulletin board.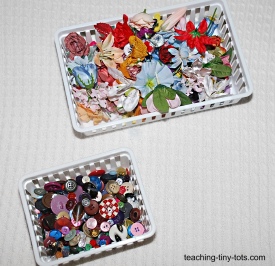 Materials
Bulletin Board
Tape or Push Pins
Picture Hangers
Colorful paper borders to match a season or theme found at education stores or printed online. Some Dollar Trees have an educational area with bulletin board cut outs for learning and decorating.
Items to Decorate
Small Decorations such as painted wooden shapes
Wood Letters for your child's name or the alphabet
Large colored buttons
Ribbon or Ric Rack
Silk Flowers
Beads
Rhinestones
Buttons
Shells
Foam Stickers
Decorate with favorite characters...Dora, Thomas the Train etc.
Acrylic Paint to match child's room
Glitter Glue
Steps
If your child is very young, you may decide to decorate it yourself or a very simple theme that will match any room decor. For now the most important decision will be what you choose to display.
Put a row of colors, shapes, letters or numbers, pictures of family members or animals to help reinforce recognition and build vocabulary.
We used Scotch tape at first to hang items on the board.
When your child is older cute options for push pins are: vintage tie tacks or pewter push pins with designs. These are pewter pins (see picture) which add a nice touch and are flat. They are a little harder to pull out that regular push pins.
There are cute hand crafted ones using regular push pins with small decorations glued to the flat surface but make sure your child will not ingest the pieces if it becomes unglued.
Hang in a secure place preferably in a stud in the wall and a little higher than your child can reach but is still visible.
Tips and Suggestions: SAFETY
Please take precaution in safe and secure placement of board. Position it in view but out of reach of children.
Check that you are fastening in a stud and/or using picture holders which hold more weight than just a nail alone.
Make sure the cork part of the board is thick enough to hold push pins securely without falling out.
Other Ideas
Small Bulletin Board with Mirror
This was made by my sister's twins who are 2 years old. A mirror was glued in the middle and beads used to decorate the edges. Colorful push pins make this a fun bulletin board to pin up favorite photos or art projects.
Educational Benefits
Hang a bulletin board securely in view of the changing table and tape your child's initials to begin the letter and name recognition process.
Tape or pin paint color swatches
Bonus
My refrigerator is clutter free!