Home Lunch Ideas For Kids
Description
Toddler Recipes: Home Lunch Ideas for Kids. We have some meal suggestions and snacks. We also have found some favorite containers to use for packing lunches and a few tips to keep that lunch warm . Some of these suggestions are perfect for the health conscious parent but we have also added a few meals that we think most children will enjoy.
Main Meal Ideas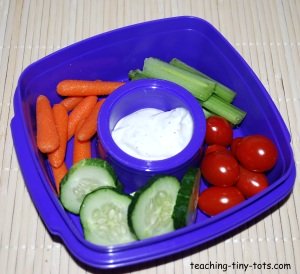 Veggie Mix
Baby carrots, celery sticks, cucumber slices, grape tomatoes, steamed broccoli or cauliflower with favorite dressing. Switch it up and add a spinach dip or a veggie dip.

Fruit Salad
Grapes, sliced apples, strawberries, blueberries, melon, watermelon etc. with a scoop of yogurt, cottage cheese or caramel dip. We love this container for bringing veggies and fruit.

Tortilla Wraps
This is a favorite as you can fill it with so many different things.
Hummus, shredded carrots, cucumbers and deli meat.
Salame, Cucumber and Tomatoes.
Nutella or Peanut Butter (if allowed) and Jelly.
Cream Cheese and sliced Cucumbers with a little Hot Pepper Jelly (if they like spicy things)
Special spreads like Trader Joes Speculous Crunchy Cookie Butter and Cucumbers.
Homemade Lunchables or a Mini Charcuterie (this is a great make ahead lunch)
Cracker such as Saltines, Triscuits, Wheat Thins, Multigrain Crackers, Pita crackers
Cheese cubed like cheddar, monterey jack, colby jack or pre-sliced. The pres-liced squares of cheese are great with cookie cutters for fun shapes. Pre-wrapped cheeses like Babybel and Cow Cheese are fast and easy to pack.
Meats like salami, pepperoni, prosciutto or deli meats. With a little practice you can make a fun rose salami using a small glass.
Turkey or Ham Pinwheels
Spread hummus on a tortilla, then layer a slice of turkey or ham and some spinach leaves. Roll up and cut into 1 inch rolls.
Cinnamon Raisin Bread
Not feeling like a sandwich? Another favorite is toasting 2 pieces of cinnamon toast, spreading some butter in between the slices and packing it in a sandwich container.
Banana and Honey Sandwich in Raisin Bread
My husband's favorite is two slices of raisin bread, spread peanut butter (if allowed) or nutella or similar spread, sliced bananas and a drizzle of honey.
Mini Subs
Small Hoagies filled with favorite deli meat and a slice of cheese or chicken salad
Salad
Lettuce with croutons in a ziplock and a creamy dressing using this container, pack a spoon for the dressing
Egg or Tuna Salad
Butter Lettuce or iceberg lettuce with a scoop of egg or tuna salad. No additional dressing needed. Add a sprinkle of paprika on the egg salad.
Cold Pasta Salad
Pasta, Olives and cut Cherry tomatoes with a little Italian style dressing
Bagels
Fill with favorite toppings such as cream cheese, honey or even peanut butter and jelly. (They have thin bagels now too)
Chicken Salad Make a sandwich, pita pocket or pack a scoop in a container with crackers on the side. Change up the flavors with adding fruit chunks of apples and sliced grapes. Or add a teaspoon of curry.
Cold PizzaMy girls love leftover pizza from the night before. They will eat it cold too! They prefer not using the school microwaves.
Warm Main Dishes
See our container suggestions for keeping foods warm. Toaster Ovens are very handy for quick heating and wrapping in foil or for better heat retention cut into smaller pieces and place in a thermos.
Soup

Macaroni and Cheese - Home made if their favorite but if not a tub of Dave Evans will suffice for a couple lunches.

Bagel Pizza: toasted Bagel with pepperoni and melted mozzarella cheese.

Hamburger Sliders
One will fit in the thermos suggested

Hot Dog
Heat and slice. We recommend the fully cooked hotdogs, heat in microwave.

Baked Beans
Add a teaspoon of honey or a few sliced Hot Dogs

Quesadilla
Make ahead and zap for a few seconds in the microwave to pack. Slice into small strips. Add a little salsa or sour cream in a small container

Chicken Nuggets
Zap in microwave or bake in a toaster over for quickest heating

Chili and Sliced Hot Dogs
Homemade or can, just heat and pack. Add a tablespoon of shredded cheese on top.

Grilled Cheese Strips
Grilled Cheese in a pan or even toasted and then cut in 3rds or 4ths. It might not stay "crispy" but still is a favorite

Fish Sticks
Another easy to prepare but this too will not stay crispy

Pasta
Pasta lightly seasoned with butter and Parmesan

Spaghetti and Chili
Left overs from dinner make a great hot lunch idea. Just heat and pack in a thermos.

Canned Items
Great for a quick lunch idea Chef Boyardee and other brands offer some kids meals
Snacks
Cheese Sticks
Cheese Slices (cut out fun shapes with mini cookie cutters or into cubes)
Home Made Snack Mixes: Raisins, Pretzel, Goldfish, Cereal
Carrots, Cucumbers, Grape Tomatoes or Celery Sticks
Hard Boiled Egg (cut in half for young children)
Yogurt with fruit or Drinkable Yogurts
Frozen yogurt: thaws nicely by lunch
Fruit cups such as sliced peaches, mandarin oranges. These can be messy so I drain the juice and put the fruit in a small container with spoon.
Apple Sauce (best for older children since this can get messy)
Jello Snacks and Pudding
Granola Bars
Box of Raisins
Popcorn
Trail Mixes
Apple Slices with lemon squeezed to retain color and caramel dip
Pretzels and Goldfish varieties
Triscuits or Wheat Thins with a few slices of Monterey Jack or Cheddar Cheese
A favorite was a mix of popcorn, goldfish and pretzels. We just stored it in an airtight container and used a measuring scoop to put in a small ziplock.
For Older Kids
We switched to these Systema Branch Lunch containers which are also BPA free and love the ones with compartments which help keep bread from getting soggy and they love to "construct their lunch".
Other Ideas

Salad: Lettuce in main compartment, cherry tomatoes, cucumbers and croutons in smaller compartments.
Waffles: 2 Belgian Waffles in main compartment with blackberries and strawberries, whip topping in smaller compartments.
Wraps: 2 Small Tortillas rolled into main compartment. Turkey, cheese, lettuce, tomato, in smaller compartments. Hummus spread or Ranch dressing in small separate container.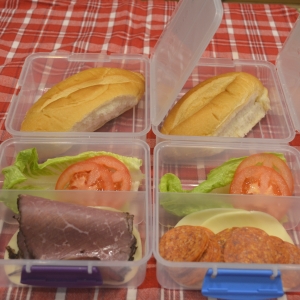 Easy to Make Snacks
Cheese Crisps
2 Tablespoons Cheddar Cheese
Steps
Line a baking sheet with parchment paper.
Put the cheese onto the parchment paper and spread it into a flat circle.
Place in the oven for 5-6 minutes.
Let cool. Break into small pieces to sprinkle on salads or eat as a snack.
Triscuit Melt
Triscuits
Cheddar, Monterey Jack or other cheese
Toppings: Pepperoni, Tomatoes, Olives, Bacon Bits, etc
Steps
Place triscuits on paper plate to microwave or foil lined tray for toaster oven.
Place square of cheese or small pinch of shredded cheese on each triscuit.
Top with pepperoni, tomatoes, bacon bits, olives, etc.
Toast in toaster oven or microwave for 10-15 seconds, just until cheese is melted (time will vary)
Let cool slightly before eating.
Lunch Containers
There are many fancy ones at The Container Store that can hold different items separately. I've seen a few at Walmart as well. These are the ones we have used with success that are easy to clean and have lasted the entire school year.
We found this container to be the most effective for keeping foods warm but naturally it will depend on what time is lunch. Perfect for small portions of soups and our warm meal ideas like the Hamburger Sliders. While it will keep most items warm it will not keep items crispy on the outside like fish sticks.

We found Funtainer brand thermoses at Walmart and Target. We also use the water thermos daily and with ice, water stays cold all day.

Tip for Keeping Food Warm: Microwave 1 cup of water for a minute and pour into clean container before use. Cover and wait 20 minutes then remove water, wipe and place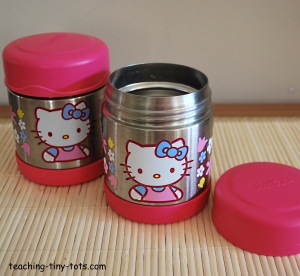 Keeping Things Cool!
Cute Ice Packs

Keep yogurt, cheese and other food cool and fresh in your child lunch with these small cute ice packs. Refreeze and use again and again.

Makes lunch fun and stands out for young children to remember to bring it back home. There are waterproof name stickers perfect you can order from various companies for items like these and other lunch containers.



Dip Container
You can find containers like this at Walmart and The Container Store. It is perfect for snacks and lunches. Here are some ideas:
Perfect for fresh veggies
Salad and dressing
Chicken nuggets with ketchup or favorite dip like honey mustard or BBQ
Cut hot dogs with ketchup
Apple and Fruit slices with Caramel or yogurt dip
Crackers and veggies with hummus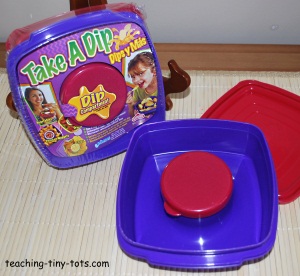 BPA Free Containers
We found these BPA free containers from the Container store but more stores are offering these type of plastic storage containers in various sizes. These range in size from sandwich size to snacks size. The Nalene brand is designed for use in storing liquids for travel and therefore are leak proof. We got a tip from The Container Store that they are also perfect for dressings and sauces. We fill them with Ranch Dressing, sour cream, syrup, butter, and taco sauce.