Toddler Party Ideas:  Need Some Birthday Party Ideas or Kids Party Ideas?
Toddler Party Ideas: Here are a selection of crafts, recipes and kids party ideas. While the trend for birthday parties has been fully hosted parties held at Art centers, Chuck E. Cheese, Jumping Centers and other places, home parties and sleepovers have increasingly become popular. Here is a selection of ideas from our website that would make any party a memorable one.
For a site filled with themes, kids party ideas, food suggestions and games, be sure to check out our site Perfect Parties We will eventually be moving all of the party pages to this site. Thanks for your patience!
Goodie Bags
Click here for
Kids Party Games
at Teaching Tiny Tots. For more party game ideas such as Classic Party Games, Carnival Games like the Tic Tac Toe game in the picture and Outdoor Party Games, take a look at our site
Perfect Parties Game Ideas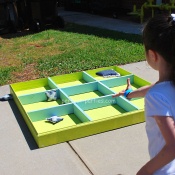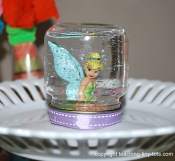 Holiday Party Ideas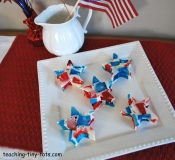 We know some of you enjoy celebrating Halloween so we made a page for
Halloween Party Ideas
We found a few cute ideas for all age groups.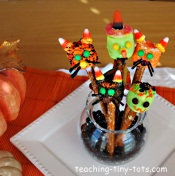 Pumpkin Bread is one of most favorite recipes! Here it is on our
Thanksgiving Party Ideas
We have made this at family get togethers but also I've made this in the classroom many times!