Ideas to Use for Goody Bags
Here are Suggestions for different Kinds of Favor Bags and Containers for Kids Parties. You can decide how much you want to embellish the bags. Adding stickers, ribbon, writing their names are all things that can be done to make it more individualized
Decorate Your Own Goodie Bag
Have each child make a special birthday momentous by decorating their own goody bag using foam stamps and fabric paint. These tote bags can be found in bulk packs at most craft stores.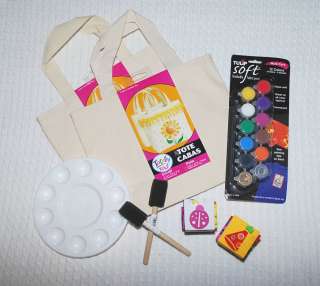 This mini totes can be found in bulk packs in most craft stores or stores with a craft section. Use paint pens or glue decorations on to match the party theme.
These are great for customizing using Paint Pens or stickers. You can purchase these at Office supply stores. Wait till school starts and save! I bought these for $.25 each. Fill with items children will use like pencils, markers, crayons or erasers

Decorate clear poly bags by gluing on a picture of your child or finding stickers for the theme of the party. Tie with a pretty bow or brightly colored twist tie.
Purchase theme goodie bags. Fill with goodies and then tie with a pretty bow or brightly colored twist.
Here are handy tote bags, often sold in sets of 10-12 in Party Sections in Party Supply Stores, Target or WalMart. We used these one year and I made cute labels with a simple message, "Thank you for celebrating our birthday with us!" I added some clip art and we filled it up with small favors.

Colored Pails
At Dollar Stores or stores like Target which have Dollar sections you can find brightly colored pails. They change selection often according to season. Decorate with stickers, paint pens or glue on rhinestones and other items to make a personalized pail.