Decorate a Tote Bag
Description
Have your child design her very own tote bag using foam stamps. This also is a great birthday activity and each child can take home her goodies in his or her very own decorated bag.
Materials
Natural Canvas Tote Bag (found at most craft stores and some sell in bulk amounts or at Amazon.)
Fabric Paints
Foam Brush applicator or Paint brush(es)
Paper Plate, or Plastic Palette for Pain
Cube Stampers (also found at most craft stores for about $1 each)Some stamps are seasonal
Other Materials
Plate or newspaper to place stamps on.
Rhinestones, silk flowers, ribbon, felt or other embellishments
Fabri-Tac (for items like rhinestones
Steps
Discuss the colors to be used, stamp patterns, and how to apply paint with brush and where and how to stamp on bag.
Put paint on palette. Have brush and water ready.
Design one side of bag and let it dry. Complete other side of bag if desired. Hang to dry!
Tips and Suggestions
Work one color at a time for very young stampers. You may consider doing this in 2 sittings to avoid smearing and make the transition of colors easier.
There are also colored totes that you can select from.
Great Party Activity! They sell these bags individually or in packs of 8-10 in various colors. Children can take their goodies home in their own handmade bag.
Older children may want to embellish the top of the bag with trimming such as ribbon or yarn.
These stamps make wonderful cards or even wrapping paper! Use water colors or other paint or stamp pads for other variations.
Create your own stamp using stick on foam stickers which they have a large variety of themes now available at craft stores.
Decorate a Reusable Grocery Bag
Description
Decorate a reusable grocery bag to Trick or Treat for Halloween.
Materials
Tote Bag (found at most craft stores like Michaels)
Foam Shapes and Foam Stickers
Wiggly Eyes
Fabri-Tac or Tacky Glue
Newspaper to work on
Steps
Select foam shapes and stickers to be used
Arrange on bag and glue down.
Lay flat to dry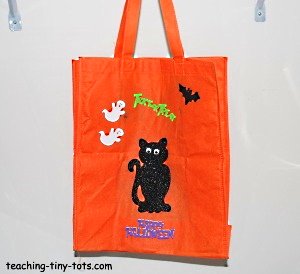 Another way to decorate is to decorate with paint.