Setting Up a Work Area or Activity Area for Your Child

Description
What this will help achieve? By setting up a specific area for toddler activities and reinforcing the behaviors you expect while doing a project with you, will help to lay the foundation for many positive behaviors later. Your child will learn this is where, when and how they can color using crayons. markers and pencils. This will significantly reduce the occurrence of murals, crayons lost in couches, marks on your furniture, t.v. and other items. Of course getting to that point means monitoring behavior closely and yes...it means sitting with your child and reminding them to put away their crayons, don't put them in their mouths, don't peel the wrappers and so on. Unfortunately, it is not an overnight process however, I can assure you that you will be thankful later! This also helps to prepare them for school. You have created an area they can learn to do their homework which is key to good study habits in the future.
Steps
Select an area that you will be doing all craft related activities. Be sure it is free from clutter and children can work without fear of damaging things from spills, or breaking objects nearby.
Define this area when you are about to do an activity by using a blanket or mat and later a table and chair.
Continually reinforce that ALL drawing is done here on the mat or at the table, not on the couch, not in front of the t.v. etc.
Our Set Up for Activities at 12 Months
A small nesting table or a low table will provide a nice work space.
Clipboards with rounded edges and a flat clip also work well for a writing surface or for holding a paper steady.
Shower curtain liners are an inexpensive way to protect floors and carpets and make clean up much easier when using paints or play dough.
A crib blanket or a small mat are great for providing a soft area if you have tile or hardwood floors and for designating a work area.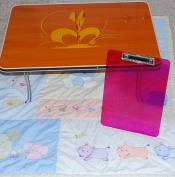 Basic Supplies
For those of you interested in keeping a few things on hand, here is a list of items you may want to consider. As you do more and more projects, you'll figure out which items you will use more of than others. A great time to stock up is right before school starts.
Paints and Brushes
Tempera
Ceramcoat Washable when wet, permanent when dry. Great alternative to acrylic. I found this type of paint at a craft store. Dozen colors for less than $5 in small snap lid containers.
Acrylic
Watercolors: I use both the ones in the sets for children like the Crayola with 8 colors for "free painting." I prefer the ones in the tubes when we do projects. With the tubes you can control the number of colors used, mix colors easier and you can control the consistency.
Glue
Elmers Non Toxic White School Glue
Glue Sticks
Aleene's Craft Tacky Glue (I like the Fast Grab Tacky Glue)
Fabri-Tac (for harder to "stick" items Adult supervision necessary)
Glitter Glue
Paper
Construction Paper
Scrapbook paper or Cardstock.
Newsprint
Water Color or Drawing Paper
Waxed Paper
Writing Supplies
Colored Pencils
Crayola Brand Crayons (colors are more vibrant)
Crayola Brand Washable Markers
Craypas
Paint Pens (Adult Use only)
Scissors
Blunt rounded tip scissors (Fiskars brand are sharper and last longer than some other brands)
Craft Scissors
Craft Punches
Measuring Cups and Spoons
Plastic measuring cups are good for children to handle
Pyrex measuring cups are good for projects that require heating in the microwave
Things to Collect
For those who like to recycle, here are a few items that are useful to use when doing activities.
Styrofoam Meat Trays
working with beads and small craft items
printing
Eggcartons
eggcarton crafts
Sorting or storing items like beads and buttons
Rolls
Paper Towel Rolls and Toilet Paper Rolls are useful for some craft projects
Applesauce Cups
water cups for painting
cups for paint
Children's Shoe Boxes
Storing craft items like ribbon, beads, stamps, etc.
Containers like Cool Whip
Mixing things like Plaster of Paris
Ribbons
Greeting Cards Wrapping Paper
Collages
Pictures for projects
Tissue Paper
Wrapping gifts
Various Arts and Crafts activities
Fabric
Containers and Bins for Storage
Pencil Boxes
for storing and separating crayons, markers, colored pencils (purchase at the beginning of the school year or summer school.
Small Baskets
for organizing activities with small items like buttons, foam pieces.
Muffin Tins
also work well for sorting small craft items. Also great for Math Counting Activities.
Tackle Boxes
have many compartments that hold craft items neatly. Most are difficult for a young toddler to open as well.
Open Baskets
great for storing and organizing books
Clear Bins
with covers for storing craft items. Clear under bed storage containers are great for storing projects you'd like to save.
Favorite Craft Supplies
Foam Stickers
Foam Sheets
Craft Buttons
Ribbon
Raffia in various colors
Silk Flowers
Stamps and Stamp Pads
Glitter
Flat Back Rhinestones
Beads (Pony Beads, Handcrafted, Alphabet...just to name a few)
Wiggle Eyes
Pom Poms
Chenille Stems (Pipe Cleaners)
Cotton
Colored Tissue Paper
Craft Sticks (plain and colored, wide and thin)
Tips and Suggestions
Once an art or activity area is established, make sure to set limits for the use of materials.
Show your child where to put the crayons, markers and other supplies after using. Have a specific container to put it in.
Always read labels on products you purchase whether it is paint, glue, etc.
When using paints or markers that are not washable, wear appropriate clothing,
Check toys and books periodically to make sure there are no loose pieces, broken parts
For any new activity involving new materials whether it be crayons, markers, or paint 1 or 2 colors is a good start. Let them trade ore request a different color. It's also a great opportunity to reinforce color recognition and encourage language.
Take time to show them how to use new materials...whether it is to hold a pencil properly, open and close a cap of a marker, close the glue or cover the glue stick. It will take many reminders but these are all necessary skills for Kindergarten.
Take a few minutes to explain how to safely hand items like pencils and scissors to you or siblings to minimize accidents.