Bags and Boxes for Traveling with Babies and Toddlers

Description
Toddler Travel is always full of preparation...you need what seems like an endless list of items for diapering, feeding, and entertainment. Here are some of our suggestions for organizing and carrying these items to make it easier.
Selecting the Best Bag for Your Needs
Traditional Carry On Bag
A carry-on that has sections and pockets and a shoulder strap will be very handy. Baby Backpacks, Roomy Diaper bags or the traditional carry on bag with strap are good choices. This bag should be able to fit under the seat in front of you. You will find yourself constantly getting things out....snacks, diapers, bottles, toys and books. This will be especially true with children under two years of age. Organizing items into different sections of your bag will make it easier to reach in and grab things without hauling it onto your lap to search for things.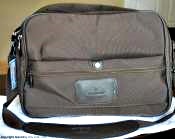 Backpack
Backpacks for travel often have multiple zippered areas. Often one for a laptop or iPad, a main compartment and a smaller front compartment to store small items like pens, keys and wallet. These keep your hands free while keeping your things organized without having to dig through a big purse or bag.
Diaper Bag
Need a diaper bag but not ready to give up the designer bag? Coach offers a constantly changing line of diaper bags that come with a pad that can be used to change diapers or pad your iPad/laptop. Most have pockets on either end which can carry sippy cups or bottles or a small thermos. Use a flexible cozie to keep fluids cold. With pockets for phone and small items, it often has almost hidden long zippered pockets great for separating your wallet. The main compartment also often has a long slip pocket as well. This is definitely a bag that has both quality and style.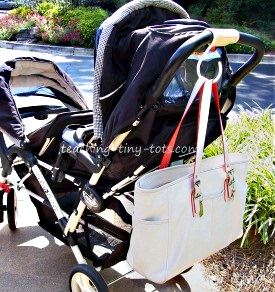 Lumbar Packs
Perfect for Dad. It can hold your personal items and important documents like passport, tickets and ID's. Keep these documents in a separate pocket for easy access and less opportunity of misplacing them. Fanny or Mountainsmith Kinetic II Bag like the one shown in the photo are good choices because they keep your hands free and your important items will be on your person at all times. This particular lumbar pack has a pocket on either side for water bottles. The main compartment has a small zippered mesh pocket and a clip for keys. Small padded front pocket for glasses. Approximately 8 x 8 x 3 inches.
Travel Purse
Here is another option for carrying personal items and a little bit more. It's the Overland Equipment Donner Purse - Women's with lots of compartments that lays relatively flat against your body but can also hold my Nikon D-60. The front has an organizer pocket with a slot for pens, pocket for glasses, two additional pockets for small items and a small zippered mesh pocket. There is a slip pocket in the back and a zippered main compartment with one slip pocket in the interior. It has two pockets on either side that will hold a water bottle.
Toddler Travel Box
Description
A Travel Box is a great way to be prepared for an overnight trip or a long trip. Keep these essentials in there at all times so you don't have to worry about forgetting things, looking for items, refilling or trying to find small sizes appropriate with regulations. Refill shampoo and soap when you return from a trip and then you are ready to go.
Baby Box
This was our Baby Box where we stored items on the list of must haves for babies. We used this container as our travel box. I simply separated items into ziplocks to organize. I used clear mailing tape to wrap one time around the entire box with the end folded for easy removal as a deterrent in case I left the box on the floor.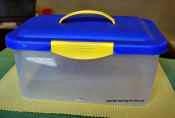 Tackle or Tool Box
These boxes are usually a little trickier to open for children and have a lift out tray. This particular one even has compartments on the top to store small items like hairbands, band-aids, etc. The handle on the top makes it easy to carry...just make sure to latch before lifting! This is an inexpensive solution for a large box with compartments. Not only is this useful as a toddler travel box, but it works well as a portable craft box to store items like crayons, scissors and glue, stickers, etc. with you to keep your little ones busy.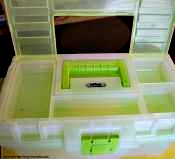 Handy Checklist for Items to Bring
Prescription Medications
Be sure to have dosage instructions available and familiarize yourself with potential side effects if it is a new medication.
Over the Counter Medications
The following list is just to give an idea of basic OTC medications. Please follow the recommendations given to you by your Pediatrician. There has been a growing awareness of problems OTC medications can cause if not administered properly and some pediatricians have actually stopped recommending the use of any. Please follow all guidelines and dosages that your pediatrician provides, not the ones on the bottle since it will vary from child to child depending on weight and age.
Baby or Children's Tylenol or Motrin (in case of fever)
Children's Benadryll or Claritin (for allergies or hives)
Dosage cup or medicine dropper
Vitamins
Neosporin or similar
Bug Repellent (check for appropriate age to use)
Bath Items
Baby Shampoo/conditioner
Baby Wash
Small bath towel in ziplock
Toothbrush/Toothpaste
Mini Flossers
Comb/Brush
Small Spray bottle (for water- works well for styling hair)
Baby Lotion
Aquaphor
Diaper Cream/Ointment
Miscellaneous Items
Night Light
Safety plugs
Hairbands
Nail Clippers
Bandaids
Pacifier
Nasal Aspirator
Sunscreen
Tips
Print out a list of the medications you are carrying and the dosage and time frame and tape to the inside of your box. That way anyone can administer the medication safely if required. I actually take a sheet to the girls annual appointment and have the pediatrician fill it out. I make several copies and place one in their box, one on the refrigerator and one in their bathroom cabinet.
Another way to keep track of medicine dosage is to write directly on the bottle with a sharpie pen.
Keep a toothbrush and small toothpaste, hair brush or comb in the box at all times...those are the easiest items to forget because you use it up until the time you leave. It is definitely worth having the extra set because it is also two items you will want to have with you on a trip.
PLEASE NOTE: Always contact your physician regarding any questions or concerns. This information is not meant to replace professional medical advice.
See here for more toddler travel tips:
Toddler Travel Tips for the Car
Entertaining Babies, Toddlers and Young Children While Travelling