Toddler Travel Tips

Toddler Travel in a car can be very exhausting...so here are a few tips we found were very helpful when we had long car rides. We travel regularly to visit family in car rides lasting anywhere from 1.5 hours to 9 hours since the girls were born. While you can't ensure your baby or toddler will be cheerful the entire way, here are a few travel tips to help the car ride go smoother!
Snacks
One of the most important keys to a smooth car ride! I found that a cooler bag works very well. It is narrow and flexible so it fits easier between seats. The insulated sides help keep thermos, water and baby bottles cool as well as keeping items like grapes, cheese at a nice temperature. For extra cooling I add a couple reusable ice packs. I store most of the snacks in zip lock freezer bags. Fruits in one, cracker snacks in another and cheese in a third. If it's a long trip I add more variety such as cereal, cinnamon raisin bread and more fruits like cut apple slices, cut strawberries, blueberries and string cheese.
Diaper Bag
A bag designated for diaper and potty items that has sections or pockets is very handy. Organizing the diaper items makes it easy to do a quick change in the car or van without out digging for items or retrieving them from a suitcase or various bags. Store an extra changing pad or a disposable one in one of the pockets. Keeping an extra set of clothes in a zip lock is also helpful. I actually started keeping a tub of wipes in the car for quick clean up of faces and hands too. Keeping this bag stocked in your car for daily trips and refilling as needed made even day trips were helpful. As the girls started to potty train, this became filled with extra clothes, potty toppers and pull ups.
Potty Toppers
are great for beginning toddlers using the potty. Seeing my little ones holding on to the potty for dear life while potty training led me to research potty toppers for restrooms stops along the road. I know despite my warnings, "Don't touch, hands in lap, etc." that it would take a while to train them. I always carry one in my purse with me since many restrooms don't have the disposable liners.
Portable Potty
I loved this when we were in an area with no viable options to take the kids. Just set it up and no worrying about safety or cleanliness of a public restroom.
Hand Sanitizers
Easier for young children to use when they can't reach the sink in the restroom.
Baby Wipes
Great for quick clean ups and spills in the car.
Links
These links were really handy to attach lovies and soft books to keep them from being dropped in out of reach places while on the road. Just attach and few together and slip through the tag.
Mark your stroller with a ribbon or luggage tag to keep it easy to identify especially at places you have to leave your stroller in a "parking area."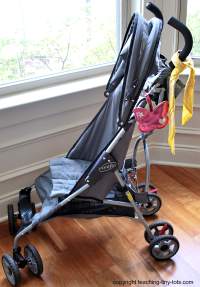 Entertainment
Music that your child enjoys.
A new book with lots of vivid pictures are fun. Select one with favorite characters or an interactive one that has textures. For babies, soft books with a loop are perfect. You can attach a link or tie a wide shoestring so it can be retrieved easily when dropped or thrown. Older toddlers and children may enjoy the look and find books or one with the removable peel and stick pieces.
New Small quiet toys. Or put away a couple favorites for a week to make it more interesting for your child.
For older toddlers a trip to a Dollar Tree, Target Dollar Section or Michaels Dollar section will go a long way. Look for small notebooks with colorful pages, boxes of mini stickers, mini coloring books with stickers, coloring pages with marker sets, small travel games.