Easy to Make Desserts for Kids

Description
Easy desserts for kids. Just a few ingredients for these desserts.
Oreo Truffles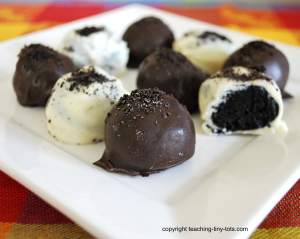 Ingredients
1 package (1 lb 2 oz) OREO Cookies, finely crushed
1 package (8 oz) Philadelphia Cream Cheese, softened
2 packages (8 squares each) Bakers Semi-Sweet Chocolage, melted
Other Materials
Parchment Paper or waxed paper
Baking Sheet
Steps
Crush oreos, a food processor chops it fine. Reserve some on side for sprinkling on the top.
Mix crushed oreos and the cream cheese until well blended.
Roll into 1 inch balls
Heat chocolate until until just melted.
Roll truffles in chocolate with two spoons. Allow excess chocolate to drip into bowl and place on cookie sheet lined with parchment paper or waxed paper.
Three Ingredient Peanut Butter Cookies

Ingredients

1 cup peanut butter (creamy or crunchy)
1 cup white sugar
1 egg

Steps

Preheat oven to 350 degrees F (175 degrees C)
Line baking sheets with parchment paper.
Combine the peanut butter, white sugar and egg. Mix until smooth.
Drop spoonfuls of dough onto the baking sheet. Bake at 350 degrees for 6-8 minutes. Do not over bake.
Let cool before removing.

Nilla Wafer Treats Cute decorated treats for any occasion. We made this for Valentines Day.

Ingredients

Nilla Wafers
White Frosting and food coloring
Candies like red hots, cinnamon hearts, conversation hearts
Candy sprinkles

Other Materials

Small Spatula or plastic spoon
Small cups to put frosting in for each child

Steps

Stir frosting
Place frosting into cup for each child.
Dip each nilla wafer into frosting or use the back of a spoon to spread frosting over the top.
Decorate with sprinkles or small candies.