Learning Shaker
Description
Make a shaker with a clear tennis ball holder and fill with numbers, letters or shapes to make a learning shaker. A green craft!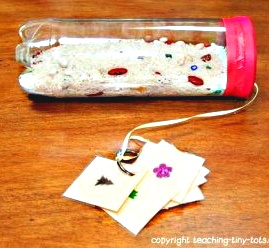 Materials
Clear plastic tennis ball container (other plastic containers can work if the opening is big enough to put items in.
Rice grains
Small Beans in various colors
Confetti: numbers, letters, animals, flowers, shapes, etc
Thin Ribbon
Colored Masking Tape
1" Loose Leaf Rings (can find them at any store offering office supplies)
Construction Paper 1 sheet
Lamination or Clear Contact Paper
Other Materials
Hole Punch
Pick or Sharp Scissors (Adult only)
Steps
Fill container 1/2 full, using a mixture of 3/4 rice grains and 1/4 beans of mixed colors.
Select the confetti to be placed into the container. Make sure you have two of each shape, letter, etc. Make sure it is the exact same size and color if it is for a child just learning to recognize shapes and letters.
Add one of each confetti, using at least 6-8 different ones (animals, letters, numbers, shapes like flowers and hearts, etc) Be sure to save the matching one for the cards.
Cut ribbon about 6-8 inches long.
Punch small hole in lid with with pick or tip of sharp scissors (Adult only of course
Thread one end of ribbon strip through lid and knot it on the inside of lid, then place a pice of tape over it so it won't come out.
Screw the lid on the container.
Seal the lid on container by running tape around the lid and container top.
Tie the other end around the ring.
Cut paper into 2x2 inch squares.
Glue confetti onto squares.
Laminate with self adhesive sheets or clear contact paper.
Punch a hole in one corner of each square.
Open ring and slide squares onto the ring and close.
Shake the container to mix up the contents.
How to Play
Ask child to select one of the squares with the confetti on it, then direct them to turn and rotate the container until they can find the matching confetti. When they have succeeded, move on to next square. See Other Ideas for more toddler activities using this shaker.
Tips and Suggestions
Tailor it to the ability of your child. If you are introducing shapes, you might only include shapes in the container.
For an older toddler, use only letter and number confetti. You can also increase the amount of confetti in the container. If your child is able to recognize letters, you don't have to make the matching squares.
Make two Shakers, one for letters and one for numbers if you feel your child may get confused.
Sand may work in place of rice, however I have not tried it. If you try sand in this toddler activity, please let me know how it turns out!
A perfect opportunity to talk about recycling and living green. Discuss how we can reuse items like the tennis ball container.
Challenging Games
Name Pick out letters of your child's name so that he/she can start to recognize them. You might want to put two or three of each letter to make it easier to find.

Alphabet Order Put the entire alphabet into the container and have your child find each letter in order....A, B, C, etc.

Numbers Put the numbers 0-9 into the container to practice recognition and order of numbers

Word Games Put the entire alphabet into the container and write words on the cards like cat, dog and have your child find them. You can change the words as your child can find the letters easily.



Letter Sounds Say a letter sound and have your child find the correct letter.
Educational Note
There are many variations on toddler activities that can be done with this shaker. To keep your child's interest, play just one or two games and put the shaker away. Always, praise your child for their efforts!