Make a Color Wheel
Description
One of my girls had an assignment to recreate the color wheel. I thought her interpretation of the color wheel was so creative. I just loved all the different items they used to make it. I thought it could be done with younger children as well to help children learn about the color wheel or even to reinforce colors identification using objects. You could simplify this activity making the color wheel with just the Primary colors for younger children.
Materials
Colored Yarn or string
Colored objects, small toys, stuffed animals, etc
Print or have this color chart handy.
Suggestions for items in the color wheel
Stuffed animals
Small toys: balls, cars, figurines
Cookie cutters and small colorful kitchen tools like spatulas
Beads
Game PIeces
Buttons
Hair clips
Markers, clips, other office supplies
small nobtebooks
Craft items like pom poms, felt, material, tissue or ribbon
hangers
colored clothespins
Free Printable Color Wheel
Here is a free printable color wheel that we found on All Business Templates.
Click here for Printable Color Wheel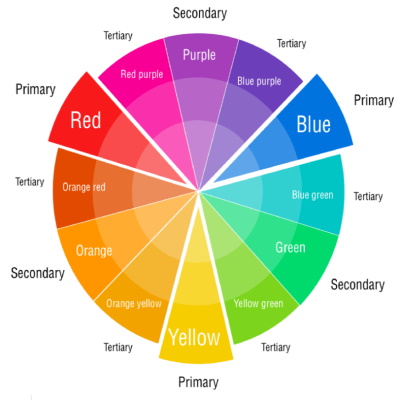 Steps
Lay out your string to make your color wheel.
Collect your objects from around the house. Designate what color will go in each quadrant. Lay out objects in each quadrant.
Take a picture!
---
Other Activities to Help Reinforce the Color Wheel