Easter Salt Dough Ornaments Using Cookie Molds
Description
Pretty Pastel Colored Salt Dough Ornaments for Easter. Press into a cookie mold to create the design and color with crayons.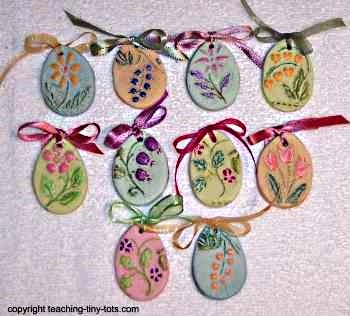 Ingredients
1 cup salt
2 cups all purpose flour
1 teaspoon Alum (optional)
3/4 cup cold tap water
Materials
Egg Shaped Cookie Cutter
Easter Molds
Crayons
Medium Bowl
Rolling Pin
Straw to make hole in ornament
Floured surface to work on
Cookie sheet to bake cookies on
Ribbon to attach to ornament so it can be hung or tied to gift
Gloves to keep food coloring off of hands
Steps
In a medium bowl, place all dry ingredients and mix to blend dry ingredients thoroughly.
Add food coloring to half the amount of water (start with 8-10 drops) If the color is what you want, add the rest of the water and mix. If you want the color darker, add more food coloring to the remaining water and mix.
Add water to the dry mixture and mix with hands. Use gloves if you don't want the color on your hands.
If the dough is sticky add more flour and if it is too dry add a little more water. The dough should be nice and smooth and will not separate when it is kneaded properly.
Roll out a quarter of the dough on a floured surface.
Press shape into mold gently making sure the dough and the mold are both floured for easier removal.
Cut with a cookie cutter or plastic egg. If using a cookie cutter, use a straw to punch a hole in the cookie while the cutter is in place so you can later attach a ribbon.
Prepare cookie sheet with a generous layer of flour. Roll the dough as close to 1/4 inch as possible.
Place the cookies on the floured baking sheet and bake in warm oven below 200 degrees, most ovens have a warm setting for 2 to 3 hours. (Parent step only!)
Remove from oven, turn over and return to oven. Repeat at least 3 times.
Turn off oven and let cookies remain inside until cool.
After the cookies are dry, brush off excess flour decorate with crayons and tie with ribbon.
This baking process allows the cookies to dry slowly, if the oven is too hot they will start to brown and salt dough should be as white as possible for the prettiest results.
Tips and Suggestions
This toddler activity is best done in two days. The first day make the dough, cut it out and bake. On the second day decorate and display.
Don't make the dough in advance or use leftover dough.
Alum is optional. Alum is an astringent that aids in binding the ingredients.
Cookies larger that 2 1/4 inches may not dry flat. If you are experiencing this, allow the cookies to dry at room temperature for 24 hours on a floured cookie sheet, then continue to dry out in warm oven. Most average size cookies are dry in 24 hours
More Easter Salt Dough Ideas
Brown Bag Cookie Mold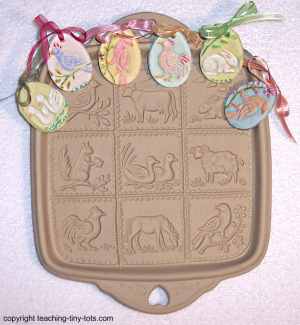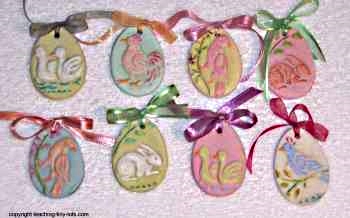 Hartstone Mold
This is made with a Hartstone mold and colored with crayons.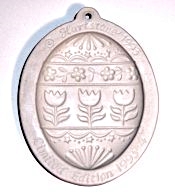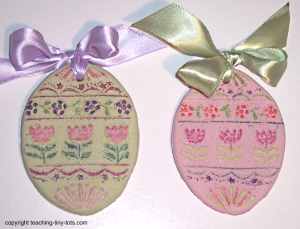 Wilton Molds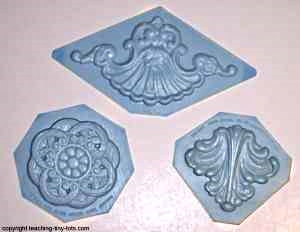 Peter Rabbit Mold