Soda Bottle Flower Prints
Description
An easy craft for all ages. Make flower prints and cards using a soda bottle.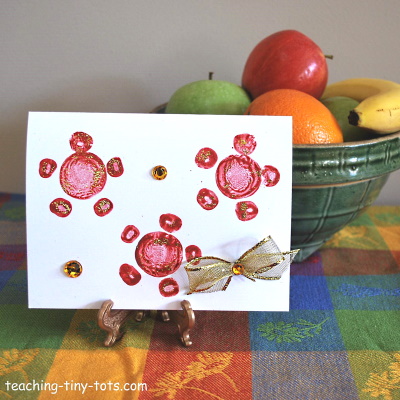 Materials
Empty plastic soda bottles. Use one bottle per color.
Tempera
Decorative items: Buttons, glitter, ribbon or rhinestones.
Tacky Craft Glue
Thick card stock, construction paper or white scrapbook paper. Here is a link to some on Amazon.
Other Materials
Newspaper to work on.
Brush<
Paint tray, paper plate or small flat containers (lids of plastic containers work well)
Paper Towels
Steps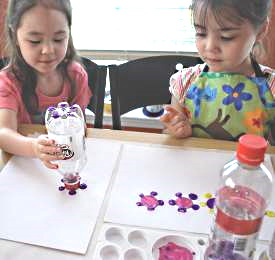 Put one paint color in each lid or container.
Use one bottle per color.
Press bottom of soda bottle into paint and print. This forms the petals
Press the cap into the paint. Press into the middle of the petals printed. This makes the center of the flower.
Repeat until finished.
Sprinkle glitter when paint is wet.(optional)
Let dry. Add embellishments if desired such as stickers, buttons, rhinestones or ribbon for cards.
Tips and Suggestions
Use smaller soda bottles for easier handling especially for younger children.
If you are doing cards, allow some time to just experiment on a sheet of construction paper.
Thick blank cards like the ones we used can be found in craft supply stores.
Tempera washable paint works well but water colors and acrylic may have more variety.
We recommend Ceramcoat Acrylic since it is washable until it dries or using tube water colors for a little thicker consistency. Apply these two types of paint with a paintbrush for best results.
Other Ideas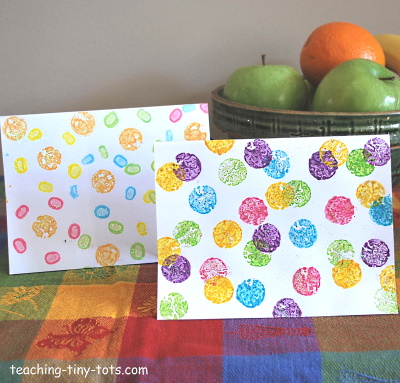 Another fun variation on this toddler activity is to use corks and ceramcoat acrylic paint. The card in the back is a combination of the soda bottle prints and cork prints. We used tempera for most of our prints but ceramcoat offers some sets with a nice variety of colors. Since it is washable until it dries, it is easy to wipe the cork after each color, however having a cork for each color is ideal. We used a water color paint brush to apply the paint to get a thinner coat. That allowed to show more texture in the print.