Toddler Recipes: Home Lunch Ideas For Kids
Toddler Recipes: Home Lunch Ideas for Kids, Meals, Snacks, Containers and Tips
DESCRIPTION
Want to make home lunches for your child? Here is a list that will give you some ideas. Some of these suggestions are perfect for the health concious parent but we have also added ones we think most children will enjoy. We will be adding more pictures and ideas as the year progresses so check back often. If you have a homemade version of soup, chicken nuggets, or fish sticks... feel free to submit it to Teaching Tiny Tots.

Please check with your child's school or day care to see if there are children who are allergic to peanut butter!

Main Meal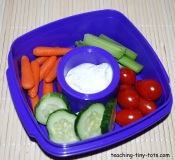 Veggie Mix with baby carrots, celery sticks, cucumber slices, grape tomatoes, lettuce with dressing
Bagels with cream cheese and honey or peanut butter and jelly (They have thin bagels now too)
Bagel Pizza: toasted Bagel with pepperoni and melted mozzarella cheese.
Chicken Breast Strips with Baby Carrots and Ranch or Honey Mustard dressing
English Muffin "Pizza" (wrap in foil or cut in fourths and put in a thermos)
Tortilla Wraps filled with hummus, shredded carrots, cucumbers and deli meat
Hamburger Sliders (one will fit in the thermos and stay warm. Angus has sliders at Costco)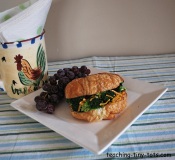 Croissants with deli meat or steamed broccoli and cheese. Sometimes we just put butter or honey and a slices of cheese on the side.
Mini Subs: Small Hoagies filled with favorite deli meat, chicken slices, cheese strips...add a piece of turkey bacon
Homemade Lunchables with crackers, cheese and deli meat cut out with small cookie cutters.
Cold chicken (We make Herb Roasted Chicken and use left overs for sandwiches, salads or just cut into small pieces for lunch
Soups homemade or child's favorite (see recommended containers below)
Home Made Pizza toast and wrap in foil or leftover pizza
Hot Dog (buy the fully cooked ones, heat in micro or boil and wrap in foil or cut in small pieces for young children and put in thermos)
Baked Beans with Sliced Hot Dogs (Put in thermos)
Chunk Chicken or Tuna Sandwich (add small cut pieces of apples and grapes for a sweet taste)
Egg Salad (chop and add mayo, salt or slice egg and add mayo to the bread)
Quesadilla: Add cheese, chicken and slice into small wedges. You can cut into strips and place in the food thermos shown below to keep warm. Add a little salsa in a container
Hot Meals
If you use a good thermos like the Thermos Brand Funtainer you can heat foods in the morning and it will still be warm at lunch. We tried other brands and it didn't stay nearly as warm. See photo below.
Mac and Cheese (homemade from the night before or instant)
Chicken Nuggets or Fish Sticks (cook in toaster oven)
Soups
Chef Boyardee type of meals
Pork and Beans with sliced hot dogs
Grilled Cheese cut in strips
Chili and cut hot dogs
Mini corn dogs
Pigs in a blanket
Snacks
Cheese Sticks
Cheese Slices (cut out fun shapes with mini cookie cutters or into cubes)
Home Made Snack Mixes: Raisins, Pretzel, Goldfish, Cereal
Carrots, Cucumbers, Grape Tomatoes or Celery Sticks
Hard Boiled Egg (cut in half for young children)
Yogurt with fruit or Drinkable Yogurts
Frozen yogurt: thaws nicely by lunch
Fruit cups such as sliced peaches, mandarin oranges. These can be messy so I drain the juice and put the fruit in a small container with spoon.
Apple Sauce (best for older children since this can get messy)
Jello Snacks and Pudding
Granola Bars
Box of Raisins
Trail Mixes
Apple Slices with lemon squeezed to retain color and caramel dip
Pretzels and Goldfish varieties
Triscuits or Wheat Thins with a few slices of Monterey Jack or Cheddar Cheese
Recommended Lunch Containers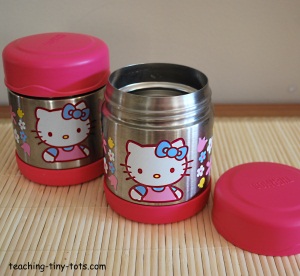 Thermos Brand Funtainer
Perfect for Mac and Cheese
Chicken Nuggets
Chili and Cut Hot Dogs
Grilled Cheese Cut in Strips
Fish Sticks
Soup
Pasta
Baked Beans and Hot Dogs
One Hamburger Slider
Tip for Keeping Food Warm
: Microwave 1 cup of water for a minute and pour into clean container before use. Cover and wait 20 minutes then remove water, wipe and place food inside. Great tip from a friend!!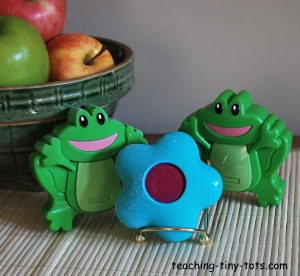 Cute Ice Packs
Keep yogurt, cheese and other food cool and fresh in your child lunch with these small cute ice packs. Refreeze and use again and again.
Makes lunch fun and easy for your child to remember to bring it back home or identify. I put a special waterproof sticker with their name on the back that has stayed on for several months.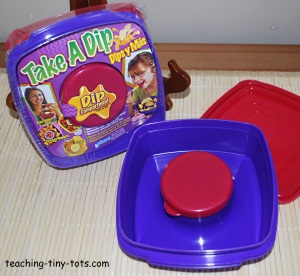 Take a Dip Container
Perfect for fresh veggies
Salads and dressing
Chicken nuggets with ketchup or honey mustard
Cut hot dogs with ketchup
Apple and Fruit slices with Caramel or yogurt dip
Crackers and veggies with hummus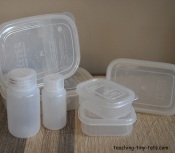 We like BPA Leak Proof containers from the Container Store; They come in a variety of sizes and the Nalene brand offers leak proof containers for dressings and dips
Tips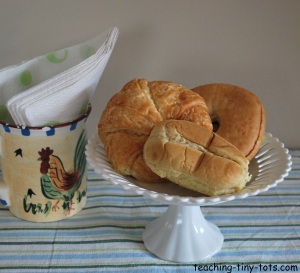 Fill water thermos the night before and refrigerate to keep colder.
Vary the type of bread you use. Try croissants, mini buns, hoagies, french bread for variety.
Put cut fruit in a container the night before to save time
Portion out snacks for children
Use BPA free containers instead of plastic baggies...green tip!
Add a little lemon to keep color fresh on cut apple slices.
Substitute butter for mayo if your child doesn't care for mayo...less worry about it spoiling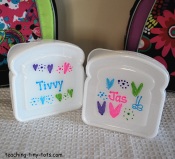 Decorate containers with paint pens to keep lunch fun.
Cut sandwiches with cookie cutters to make fun shapes to eat
Test new toddler recipes ideas at home first!
Cut grapes and grape tomatoes in half for young toddlers
There are one serving pre packaged peanut butter, ranch dip, hummus, and caramel dip for those days you are in a rush
Be sure to check out our other toddler recipes, we have holiday ideas, family favorites and other fun recipes.