Make Your Own Puffy Paint
Description
Easy recipe with ingredients that most of you have at home. Since they are all edible, this is safe for young children to work with. Download the recipe
Puffy Paint Recipe
Materials
1 Tablespoon Self Rising Flour
1 Tablespoon Salt
1 Tablespoon + 1 teaspoon water
Food Coloring 3-4 drops each color
Cut pieces of cardboard (4" x 6" is a good size). We used cardboard from a box. Thinner cardboard will warp.
Paper towels or paper plate to microwave on and newspaper to work on.
Steps
Put salt, self rising flour, and water in a dish. Add food coloring to each dish.
Mix thoroughly. We used a mini whisk to get a smooth consistency.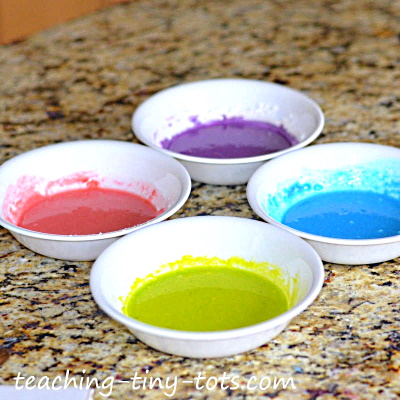 Lay newspaper on table to work on. Use paint brushes or Q-tips to paint with.
When the painting is done, place on a sheet of paper towel or paper plate and put in the microwave.
Microwave for 20-30 seconds.
Remove from microwave using the paper towel or plate to lift up. It will be warm, not hot. Have an adult do this step.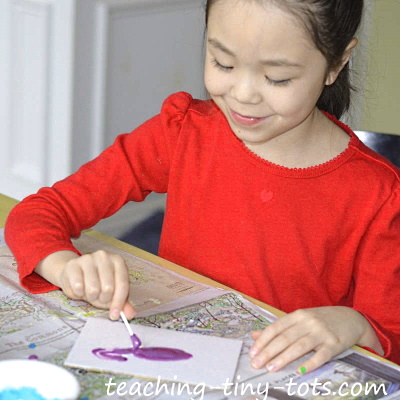 Tips and Suggestions
We tried card stock but the moisture will cause the card stock to warp a little. We found cardboard cut in 4" x 6" was a good size. White cardboard shows off the colors the best. This was obtained from boxes from Costco that we cut up.
We made four colors using the recipe above for each color. The girls made about 9 pictures.
We tested various consistencies and 1 Tablespoon was too thick, 2 Tablespoons too thin, 1 Tablespoon plus 1 teaspoon was perfect.
We found that placing it on a paper towel made it easy to pick up after being in the microwave and that way, any spillage ended up on the paper towel and not the microwave plate. A paper plate would work well too.
We used Neon Food Color