Candy Topiaries

Description
Decorative candy topiaries make great party centerpieces or home decorations for special occasions or holidays.
Materials
Cup or small vase for base

Styrofoam to fit in mug or vase (florist cylinder or cut a piece to fit)

Styrofoam shape (circle, heart, star, cone)

Dowel

Candies (see candy suggestions below)

Cake Frosting to attach candies (recommended)

Shredded Grass

Ribbon
Other Materials
Craft Glue to glue dowel in place.

Paint for dowel (optional)

Waxed Paper or Parchment paper to work on

Small dish or muffin tin to sort candies

Small plastic butter knife

Paper towels

Small dish or mug if you want to let set after first half is complete before doing the other half.
Candy Suggestions
Holiday themed or colored candies such as conversation hearts, jelly bellies.
Small candies like Red Hots, M & M's, Nerds, marshmallows, mini gobstoppers, smarties, small gummies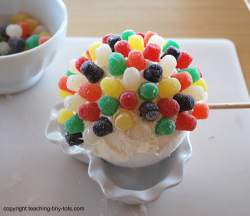 Steps
Paint dowel. Let dry. (optional)
Stick the dowel into the foam. Remove and squeeze some glue into the hole and push the dowel back in. Let dry.
Place a large sheet of waxed paper or parchment paper on a flat surface.
Pour/sort candies into small dishes or a muffin tin.
Use the spatula to put a coating of frosting on half of the styrofoam..
Stick on candies. For best results let set for 30 minutes before completing the other side.
Place on small dish or cup to keep from rolling
Use spatula to put frosting on the rest of the styrofoam.
Use a small butter knife to add frosting to a piece of candy if needed.
Note
This is not considered an edible project. Please make certain your child does not eat the candies.
Tips and Suggestions
For best results use CAKE FROSTING to stick on candies. After testing Craft Glue, Wilton Icing and Frosting we found the Wilton Icing is good for flat areas and helps define where to place candies but for any sides, cones or non flat surfaces, use cake frosting. The candy with stick and NOT slide.
If you choose to do a pattern, lay out the candies on the waxed paper.
The heart will get surprisingly heavy with the candies so make sure you test stability. We added some glass craft pebbles to create a more stable base.
At Michael's Crafts Store we found pre made shapes like circles, stars and hearts for one US dollar.
Keep out of reach of very young children when displaying! It is very irresistible looking!