Decorating Headbands

Description
Use Buttons, Rhinestones and Silk Flowers to make this pretty hair accessory to coordinate with your child's favorite outfits. Give as a gift or it can be a make and take party activity. The combinations are endless!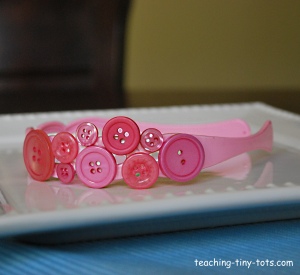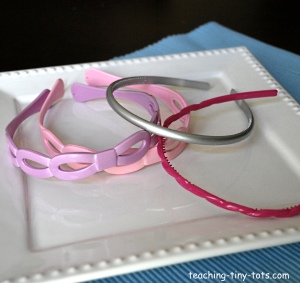 Materials top Decorate Your Headband
Any solid color plastic headband. There are also some that have a thin material covering on it that will work as well. SEe our suggestions below.
Craft Glue with a thick consistency or your decorations will slide or fall off: Aleene's Fast Grab works well holding items in place quickly or our preference is with adult supervision Fabri-tac. This glue has a very strong hold and can be found online or at Walmart and other craft stores.
Various decorations: silk ribbon flowers, buttons, rhinestones, glitter, small pom poms, sequins, bows etc. You can find these in any craft section in a store. I have also crocheted small flowers.
Newspaper or covered area to work on
Steps to Assemble your Headband
Choose what decorations you are going to be using.
Sort buttons, flowers or rhinestones by colors, size or both into small containers, muffin tins or on a tray in small piles. Great opportunity for working on sorting skills.
Line up your selected decorations in a row to plan how you want to glue it on.
Glue onto headband with craft glue.
Place on a heavy cup or on waxed paper to dry.
Tips and Suggestions
You need a thick tacky glue to avoid having items slip as you glue it.
Select items to use according to the width of the headband. The wider flat one shown in the picture above is perfect for arranging buttons while the thinner one is fine with smaller items.
Best worn by child 3+ years of age who understands the importance of not putting small objects in their mouth. If child is younger than three be sure to monitor while wearing in the event that a small item becomes loose.
Silk Flowers
For a dainty headband, find silk roses from any store with craft supplies. They are often in the wedding section in small packages. There are all different types of flowers and bows. Use roses with specific colors to celebrate a holiday...red and green for Christmas, red, white and blue for Fourth of July or white for a wedding.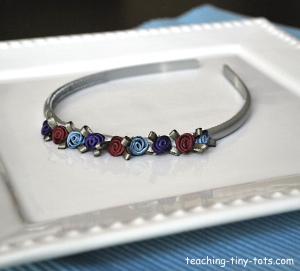 Some Suggestions for Headband Choices
You May Also Enjoy Our Decoupage Activities Below