Decoupage Letters
Description
These letters are decoupaged with fabric, sequins and glitter. They are really cute decorations and with decoupage, every one will be unique. Spell your child's name for their room! We found these cardboard letters from a craft store. They have ornaments, letters and more.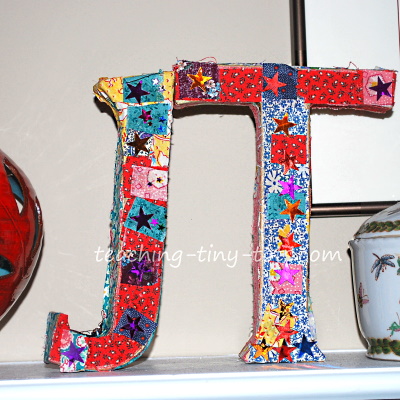 Materials for Decoupage Letters
Kraft Letter Ornaments, Wooden Letters from Craft Stores like Michaels. We will list a few we found online below. We found ours from the Paper Source but I believe it may be a seasonal item. Note the ratings and the sizes of the letters. Some are sold as a set and some larger 8" letters are sold individually.
Craft Glue or Mod Podge Gloss (Mod Podge is recommended for the shinier result)
Small colorful squares of fabric. You can find fat quarters at Walmart, bundles used for quilting on Amazon, remnants or even outgrown kids clothes.
Sequins, glitter, rhinestones, buttons, etc.
Acrylic Spray for extra shine and protection.
Other Materials
Newspaper to work on
Art smock or old t-shirt
Steps
Select your project, initials, names or words like love, fun, family, welcome, or hope.
Cut pieces of fabric into one inch squares.
Glue pieces of fabric to cover entire letter with your Mod Podge. Let the pieces slightly overlap so you can't see any of the original cardboard or wood. Let the Mod Podge dry when it is entirely covered. Add a second coat of Mod Podge and let dry.
Use Craft glue like Aleene's Tacky Glue or Fabric-Tac to add sequins and glitter, rhinestones and other small decor. With supervision a low temp glue gun would be another way to glue down items.
Let dry. If you want to seal it for a longer lasting project, spray with Acrylic Spray.
You could do their entire name or a word.
Display on a dresser, hang on door or on a wall.
Educational Tips
Have your child find the beginning letter in their name at the store.
For older toddlers you might do their entire name.
Some Suggestions for Materials Below
Other Decoupage Crafts On Our Site