Decoupage Letters
Description
Decorate letters with fabric, sequins and glitter.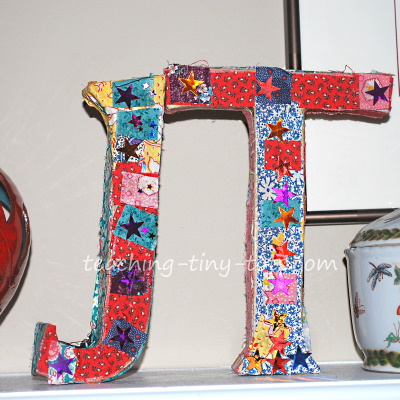 Materials
Kraft Letter Ornaments from Paper Source or Wooden Letters from Craft Stores like Michaels
Craft Glue or Mod Podge Gloss
Small colorful squares of fabric. You can find small swatches at WalMart or save old kids clothes.
Sequins, glitter, rhinestones, buttons, etc.
Other Materials
Newspaper to work on
Art smock or old t-shirt
Steps
Cut pieces of fabric into one inch squares.
Glue pieces of fabric to cover entire letter.
Use Craft glue to add sequins and glitter, rhinestones and other small decor.
Let dry.
You could do their entire name if desired
Display on dresser, or hang on door.
Educational Tips
Have your child find the beginning letter in their name at the store.
For older toddlers you might do their entire name.