Decoupage Frames

Description
Decoupage a frame with colored tissue and has cute stick on items. Easy for any age. Frames can be bought at most craft supply stores. This would make a nice make and take for a birthday activity.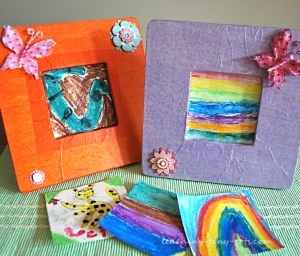 Materials
1 frame (Michaels and Dollar Tree have wooden frames.
Tissue Paper
Scrapbook embellishments: stickers, foam stickers, buttons, etc.
Mod Podge (Matte) or Elmer's Glue and water mixture in a 3:1 (glue/water) ratio
Photos or hand drawn pictures
Scissors
Newspaper or paper to cover table to work on
Steps
Paint the front of the frame with Matte Mod Podge.
Lay a piece of tissue on the top.
Cut a small square out from the center and press down the tissue to cover the inside of the picture frame's inside edges.
Patch any places where the frame is showing with some tissue.
Brush the top with Mod Podge
Let dry for about 45 minutes.
Paint the sides and edge of back with Mod Podge
Press tissue over the edges and on back.
Let dry for 45 minutes.
Trim excess tissue
Add embellishments like stickers, glitter glue, or glue on small objects like buttons.
Add photo or small drawn picture by attaching to the back of the frame.
Tips and Suggestions
The girls drew pictures on small squares with oil pastels and selected one to add to the frame.
Add a poem or message or photo and this can make a cute Mother's Day picture for children to make and take home.
We found colored tissue packs at the Dollar Tree.
For Younger Children
Use cut squares of tissue about 1-2 inches square or you could tear pieces for a different look.
This will make it easier to cover and won't tear like a large piece of tissue can.
Other Decoupage Crafts You Might Enjoy