Foam Stamps to Make Cards, Pictures and Prints
Description
Design your own stamps in this easy and fun activity. Make cards, stationary, wrapping paper or just have fun! It's perfect for ages 4 and up who have experience using a pencil.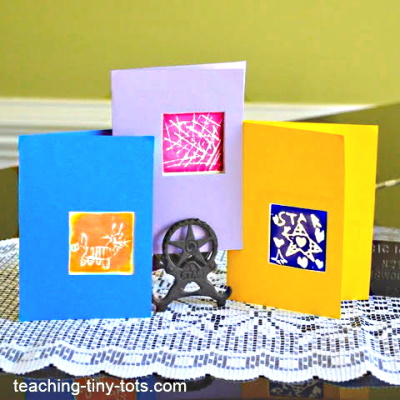 Materials
Foam Board (you can find this at Craft Stores or The Dollar Tree
Extra Thin Foam (thick foam will not work)
Pencil with a lightly dulled tip
Double stick tape to adhere foam to the foamboard
Stamp Pads. We used Memento Stamps which was very easy to use. We will post it below.
Large Square or Circle punches to make holes in card for picture. (Optional)
Paper, notebook, sketchbook to stamp on
Newspaper to work on, paper towels and Windex.
Steps
Cut foam board into 2.25" x 2.25" squares.
Cut foam pieces into 2" x 2" squares to fit on foam boards.
Adhere with double stick tape.
Using a slightly dulled pencil, draw you design or picture on the foam.
If you are using the Memento Stamps, gently rub the ink onto the foam design. If you are using a regular ink pad, press foam design onto pad.
Wipe thoroughly before changing colors with Windex and a paper towel. (adult step)
Make into a card or decorate a notepad, create a collage or make your own wrapping paper or printed tissue.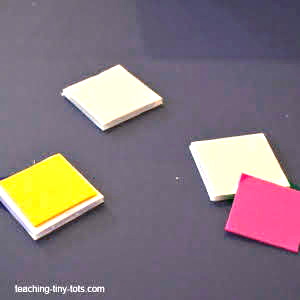 Tips and Suggestions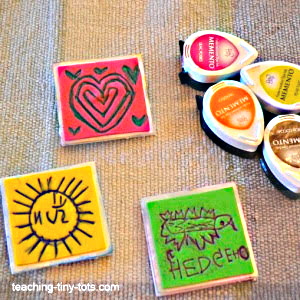 The Memento brand ink pads worked really well with this project. Instead of pressing into the pad you use the pad and gently rub over the entire decorated foam. Color is vivid and fade resistant. The ones used in this project was purchased at Hobby Lobby but I saw it also at Michaels.
Check the thickness of the foam. Thin sheets can be found at The Dollar Tree and craft stores. Buy it from a store so you can compare thickness.
Foam board can be found at Wal Mart and craft stores. I have bought a sheet for a $1.00 at The Dollar Tree.
Test pencil tip to see which works best. We found the slightly dulled tip was the best. Too sharp and it can tear. Too dull and it won't make a nice impression.
The girls learned that they needed to write the words backwords to print correctly. Practice on a paper. Test using a small mirror or compact.
Use one color at a time for best results. Although multiple colors are pretty, the colors will run.
Other ideas are printing on tissue paper, cut out designs and make a collage or make the Alphabet and practice printing their name, or printing letters in order.
For Alphabet sets you might want to write the Letter on the top of the foam board for easy recognition.