Make Your Own Holiday Potpourri
Description
Cinnamon smelling potpourri a beautiful Fall or Christmas decoration. Add some fragrant orange peels, kumquats, pine cones and cloves to make your own holiday potpourri. Use small metal cutters to create pretty shapes.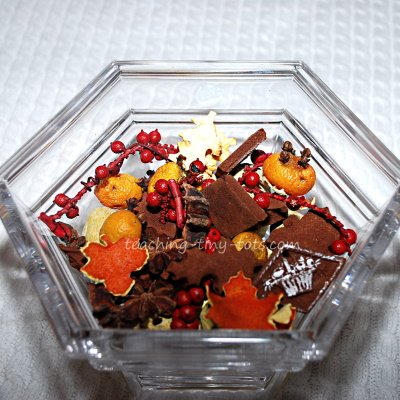 Materials for Potpourri
Other Materials
Toothpick
Container for the potpourri such as small bowl or clear glass vase
Orange or Lemon Peels add color but will be need to be cut by an adult. Tip: Use a small wooden block on top of your cutter and press to cut shape out. This will keep your hands from having to press down directly on the metal cutter.
Steps
Follow Cinnamon Dough Recipe and roll out onto wax paper or parchment paper. Roll until it is about 1/4 inch thick.
Cut out your cinnamon potpourri pieces using cookie cutters or molds.
Bake at 175-200 degrees F for about one hour, turning every 15 minutes or let air dry for a couple days.
Press metal cookie cutters into tangerine peels. Be sure to work on a cutting board to protect your counter.
Make holes in kumquats with a toothpick, this will allow for the whole cloves to be inserted easily. Press 3-5 cloves into kumquats.
When cinnamon pieces are dry, arrange it all in a small vase or bowl. When not in use, wrap cinnamon pieces in tissue and place in a freezer ziplock. This will keep them nice for the next year. The cinnamon pieces retain their smell for many years if stored properly. You may want to cut some new orange peels for more color.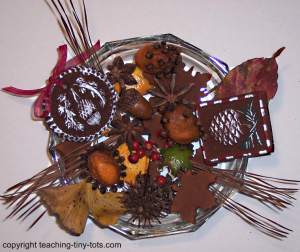 Tips and Suggestions
Change cutters according to holiday/season.
Cloves are a preservative and the fruit may turn brown where they are place but that is part of the drying process.
Anise stars can be glued to the cinnamon cookies or just added to the potpourri mix
Pour into a small lacy bag, tie with ribbon for a sachet.
Have child close eyes and see if they can identify the different smells.
Educational Benefits
Helps develop fine motor skills.
Explore sense of smell.
Some Seasonal Cutters we Found