Votive Candle Holder

Description
Easy to make candle holder using a baby food jar. Great way to recycle baby food jars. It's always good to have a candle handy especially in hurricane season. Makes a nice classroom gift for Mother's Day as well.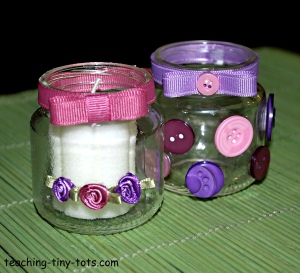 Materials
Baby Food Jar
Small silk flowers, flat back buttons.
Grosgrain Ribbon 3/8"
Craft Glue
Other Materials
Newspaper or covered surface to work on
Steps
Select items to be glued onto the jar.
Using tacky glue, adhere the rhinestones or buttons onto the jar.
Let the rhinestones or buttons dry until secure.
Wrap a single piece of ribbon (about 6 1/2 inches for standard size jar) around the rim of the baby jar. Using glue, adhere to the rim. Do NOT go above the rim.
For the bow, we used two pieces. Cut one about 4 1/2 inches. Make a loop and glue the end to middle of the back of the ribbon. Glue the other end to the middle forming two loops. Cut another piece of ribbon about two inches and wrap around the middle. If you prefer, use a small rhinestone or button to embellish.
Tips and Suggestions
Craft glue will probably be necessary to form a strong enough bond to keep buttons and other items on the jar.
Do not glue anything above the top of the baby jar to avoid potential fire hazard.
Remind children that only adults should light candles.
Display in a place out of reach of children.
Use Emergency Candles
No baby food jars? You can find emergency candles which come with the glass holder and already has a candle. Decorate with buttons, flat back rhinestones, stickers, ribbon or paint. We found these emergency candles at the Dollar Tree.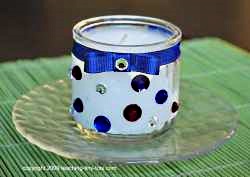 Educational Tip
This would be a perfect time to talk about what to do in the event of a black out at home due to a storm or even a tornado warning. Discuss where to go and how to keep safe. It would also be a good time to explain the importance of letting an adult light the candle.