Make Your Own Stepping Stones
Description
Make your own stepping stones. This method of making a stepping stone allows for easy decoration by even young children. Your child will be able to create their own personalized stepping stone with minimal mess.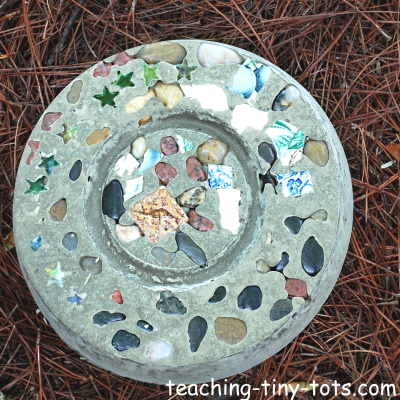 Materials
Small Bag of Cement
Large Planter Drip tray or Plastic Mold (they also sell reusable molds for stepping stones at craft supply stores)
Contact Paper
Items you want embedded (they have a large variety at craft stores but you can find items at home that you want to use)
Items include
-beach glass -shells- -small toys -plastic figurines
Other Materials
Plastic bucket to mix cement
Small Shovel
Steps
Cut out contact paper to fit in bottom of mold.
Have your items ready to place on the contact paper (pebbles, glass stars, pieces of dishes, etc)
Peel backing of contact paper off and place sticky side up in mold.
Let your child arrange stars, dish pieces etc as they wish.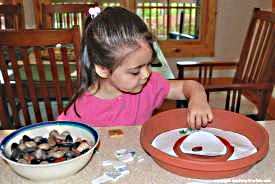 Smooth the cement with back of shovel.
Place in a flat, dry area. Let dry completely. May take up to 48 hours.
Turn mold over onto grassy area.
Wipe with damp paper towel to remove dusty residue if any.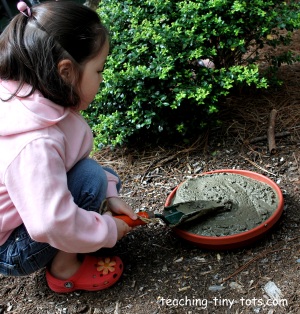 Tips and Suggestions
Use flat objects for best results. Although the contact paper will hold items in place, if the object is rounded, cement will seep around it anywhere the contact paper is not touching.
You can also gently scratch away the very thin layer of cement to better define some of the objects if necessary. In time over use this will probably happen naturally.
If you have an older toddler, they can help scoop the cement into the mold.
Stepping Stone Games
Counting
Count with your child each stone as he or she steps on it. If the stones are embedded so that it is level as in the picture, you can practice jumping and hopping as you count.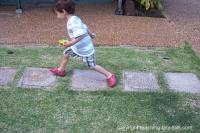 Practicing Number Recognition
Number each stepping stone with sidewalk chalk. Have your child, step, hop or jump to the correct number. Call out first in order and then when your child has mastered that, call out numbers randomly.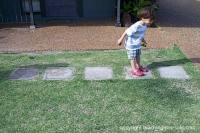 Practicing Left and Right
Have your child stand so there are stepping stones on either side of them. Instruct them to look left, look right. If they are familiar with direction, you can ask them to move 1 step to the right or two steps to the left. As you can see you can play many simple toddler activities that will reinforce counting, recognition of numbers and even direction. It will also burn some extra energy!!
Math Concepts
Numbers and Number Sense
Counting
Recognize (Read) Numbers