Toddler Activities: Halloween Cat
Description
Using black tempera and gold glitter to make a cute Halloween cat. This activity is perfect for preschool. This activity was done with 2 year olds at an art class.
Materials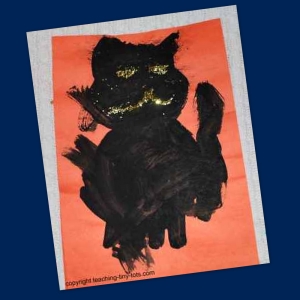 Orange Construction paper
Pencil
Black Tempera Paint
Paint Brush (a wider brush is easier for young toddlers)
Elmer's Glue
Gold Glitter
Newspaper to work on
Art smock or old shirt
Discuss what a cat looks like and find a few pictures in books to help your child visualize it. Talk about the ears, tail, how many feet, eyes, etc.
For a young toddler, draw simple shapes for each body part. Draw a circle for the head, triangle ears, oval body, long oval tail and shorter ovals for the legs.
Discuss painting in the shapes with black tempera paint.
Have your child paint in the shapes and let dry.
Draw eyes and mouth with Elmer's glue and let your child sprinkle glitter onto the glue. You may need to explain how to shake the container gently to cover the glue.
Tips and Suggestions
If your child is old enough or interested, let him or her draw their own cat.
Another way to get a cat silhouette is to find a simple printable picture either online or in an easy color book and cut out the shape.
Do not let your child handle glitter with fingers, use a shaker to dispense. Always monitor use and be sure to wash hands after us to avoid getting glitter into hair, eyes and mouth.
Educational Tips
Painting is a great way to help develop fine motor skills. This activity offers an easy way to demonstrate how to draw by using shapes as well as reinforcing recognition of shapes.