Sorting and Stringing Beads
Description
A simple activity to reinforce the understanding of counting, recognizing numbers and number representation. Helps to develop Patterning Skills. Great Math activity for girls and boys alike. I used this as a classroom activity near Mother's Day. We would send home bracelets as a gift for mom. Also perfect for birthday party make and takes. Since beads comes in all shapes, sizes, and colors, you can customize it to best fit your age group and may even find beads to match your theme.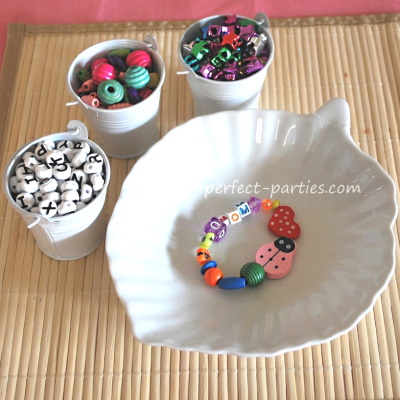 Materials
Beads (pony, wooden, metal, abc, etc)
Charms can also be added
Stretch Magic Clear Bead Cord. There are various thickness to select from.
Fabri Tac (recommended)
Muffin Tin or small containers.
Masking Tape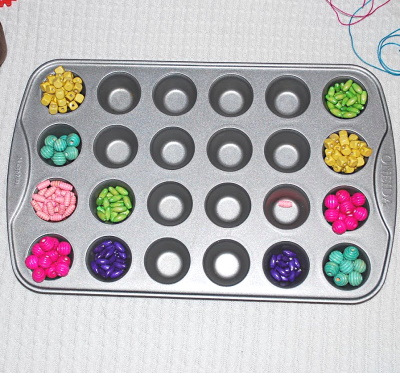 Steps
Sort beads into small containers or in muffin tins.
Discuss size, color, patterns. Lay out in a pattern. Start with simple patterns like ABABAB then ABCABC. Then if your child is able to predict the next color correctly you might try to form a more complex pattern.
Measure a length of beading cord.
Cut a small piece of masking tape and fold over the string on one end. Beads won't fall off and you can write the child's name on it.
Tie in a double knot when bracelet is made.
Put glue on the knot to hold or it will slip especially with stretchy cord. For the best hold use Fabri Tac. This will require some drying time. Aleene's also has various glues that may work. A glue gun might be able to hold the knot but it must be very low temp or it will melt the stretchy cording.
Resources
Beads: Michaels, WalMart, Target, Amazon for bulk, eBay has a nice selection, just be sure to check sellers ratings and feedback.
Bead String: Same as above
Sometimes you can find bead sets such as this Melissa & Doug Deluxe Wooden Stringing Beads with over 200 beads which comes with everything you need. My girls really enjoyed this set.
Low temp glue gun and glue sticks are probably most inexpensive at WalMart but you can get them at any craft store or Amazon in the link above.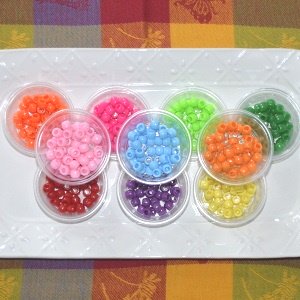 Another way to sort beads are small containers like these found at the Dollar Tree. We like these for parties as you can move the containers easily around the table. You could also put a variety in each bowl and give a bowl to each child. We used these same containers when the girls did a key chain with charms as a birthday make and take.
Math Concepts
Numbers and Number Sense
Counting: Practicing counting how many of one color.
Represent (How many is two,three, etc?) Ask your child to give you two beads.
Quantity (More, Less, Equal): Make two piles and ask which one has more or less.
Patterns and Sorting and Classifying (Algebra and Functions)
Sorting Objects by Attribute (color, size or shape): Sorting by color in muffin tins
Comparing Objects (color, size, shape): Compare two and discuss which is bigger, smaller, darker in color
Simple Patterns: Laying beads out in a row in simple patterns and identifying the next bead.
Educational Note
The reason counting activities are very important is because it helps to develop the three aspects of numbers.
Counting in a sequence out loud: 1,2,3, etc.
Understanding how much is 3 and being able to show or give three items.
Recognizing and writing numbers.
Stringing beads is not only a great toddler math activity but it helps to develop fine motor skills as well.