Cinnamon Dough Hearts

Description
Valentine Hearts Made with Cinnamon Dough, A great hands on activity that your child will enjoy. Hang as an decorative piece, add to potpourri or embellish a gift as a tie on. However you choose to use these cinnamon pieces, it is something that will last for many years and retain that wonderful smell.
Free Printable
Cinnamon Hearts Recipe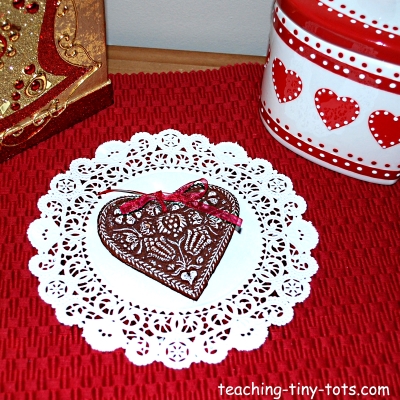 Ingredients
1 cup cinnamon
1 cup applesauce
Materials
Cookie Molds or Heart Shaped Cookie Cutter
Medium Bowl
Waxed Paper or Parchment Paper
Plastic Wrap
Rolling pin
Baking Sheet
White Crayon
Coffee stir straw or skewer to poke a hole for hanging
Ribbon if hanging
Steps
Place all ingredients in a mixing bowl.
Place on cinnamon dusted surface and knead until well blended.
Spoon out enough to make a ball about the size of a golf ball, flatten slightly and place on surface of cinnamon, flip it over and dust the other side.
Place the rest of the cinnamon dough in plastic wrap.
Prepare the mold by dusting it as well with the powdered cinnamon.
Roll out the ball of dough until it covers the top of the mold, keep the dough thick.
Place on top of the mold and with rolling pin and hands tap on the dough, pushing it into the mold.
Flip the mold over and allow the cookie to fall out.
Cut around the edge, the thickness of the cookie should be approximately 3/8".
Punch a hole in the heart if you want to tie with a ribbon or hang it up for decoration and wonderful aroma.
Place in a warm oven 200 degrees or less and allow to dry slowly for several hours, make sure it is drying on powdered cinnamon.
Next allow to cool, dust off, and color with white crayon.
Tips and Suggestions
If dough is too sticky add a little more cinnamon or if too dry add a little applesauce.
If your dough did not come out of the mold, knead again and repeat. The dough needs to be a little stiffer. Molds can be deep and you will the entire pattern to show.
If you don't have a mold, use a heart shaped cookie cutter and let your child draw their own design!
If you have any dough left over, store it by placing it in plaster wrap. Surprisingly it will last for months and months. Perfect for that afternoon you are looking for a toddler activity.
Variation on the Recipe
1 Tablespoon Ground Cloves
1 Tablespoon Allspice
Note that adding the Ground cloves and Allspice may create a drier dough that is best used immediately. The original recipe can be stored in plastic wrap in the refrigerator for a very long time