Heart Brownies
Description
Cute Conversation Heart brownies. Use a heart shaped cookie cutter and decorate with frosting. Use food markers to write conversation heart messages. These are great to make with kids. They can help make the different colored frosting and older kids can help write out the messages.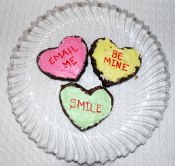 Ingredients
Box of Duncan Hines (or similar) chewy brownie mix
-Most require egg, water, and oil
White Frosting
Other Materials
Pan
Heart shaped cookie cutter 3.75" is size used in picture.
Food coloring
Small containers to mix food coloring and frosting
Spatula
Cutting Board of flat surface to press cookie cutters on
Steps for the Heart Brownies
Bake Brownies as directed.
When cooled, cut into squares a little larger than your cookie cutter. The box I made used a 9 x 9 in pan so I cut the brownies into fourths and lifted each piece out onto a cutting board
Press cutters into brownie. Peel excess brownie away from the cutters and then lift the cutter for best results.
Decorate with icing using spatula.
Write your favorite conversation heart saying on each brownie.
Tips and Suggestions
Letting brownies cool before decorating with icing or it will melt and blur.
List of Sayings
Here are some ideas: Traditional
Love You
Call Me
Dream
Soul Mate
I Do
Heart Throb
Friends 4Ever
Too Cool
Flirt
Cupid
Modern
Melt My Heart
In a Fog
Chill Out
Cloud Nine
Heat Wave
Sunshine
Get My Drift
Wildlife
Nature Lover
Do Good
Mini Heart Brownies
Using a heart cutter about 2" across and colored frosting. Mixing the food coloring to get purple and orange was a great "lesson". A cutter any smaller and you lose the heart shape. You will also want a metal cutter for ease of cutting the brownie and to make sure the sides of the cutter are tall enough to cut all the way down. Many of the plastic ones are shallow and will not cut through an entire brownie.
Brownie Recipe
Description
Rich cocoa brownies made from scratch.
Ingredients
2 cups white sugar
1 cup butter
1/2 cup cocoa powder
1 tsp vanilla extract
4 eggs
1 cup all-purpose flour
1/2 tsp baking powder
1/2 tsp salt
1/2 cup walnut halves(optional-leave out if for classroom consumption
Other Materials
9 x 13 pan
Heart Cookie cutter
Icing
Steps
Melt the butter or margarine and mix all ingredients in the order given.
Bake a 350 degrees for 20-30 minutes in a 9 x 13 inch greased pan.