Chocolate Filled Cookie Cutters

Description
Chocolate filled cookies cutters decorated with sprinkles are a wonderful gift for teachers or someone you would like to say thank you to! Give one to your mail carrier, baby sitter or other people that help care for your child. After the chocolate is gone...they have a cute Christmas Cookie Cutter!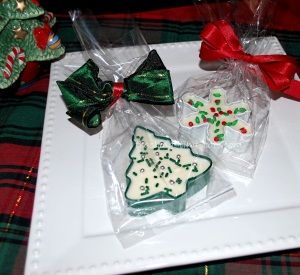 Ingredients
Metal Cookie Cutter
White Chocolate or Brown Chocolate Bark
Sprinkles
Spoon
Microwaveable bowl
Cookie Tray
Parchment Paper
Clear Plastic Goodie Bag
Ribbon
Scissors
Gift tag
Steps
Line cookie sheet with a piece of parchment paper about four inches bigger than your cookie cutter on all sides
Place cookie cutter in center of piece of parchment paper, cutter side down.
Put 2 or 3 squares of chocolate bark into a microwave safe bowl.
Microwave as directed or 30 seconds. Stir and repeat at 15 second intervals. Mix well after each heating.
Carefully pour into center of cookie mold.
Holding cutter down with fingers, gently shake the cutter side to side and the chocolate will spread into all corners. Adult should do this to prevent the chocolate from leaking out from under the cutter.
Add more chocolate and repeat if necessary.
Sprinkle with candy decorations or drop onto area you desire.
Let cool and harden on the parchment paper.
For faster results, cool in refrigerator for about 20 minutes.
Place in clear gift bag.
Add a ribbon and gift card.
Tips and Suggestions
When heating chocolate, stir well for at least 30 seconds to spread heat evenly. The hotter part will melt some of the chocolate as you stir.
Very Important: Heat until just melted and chocolate is smooth and shiny. Chocolate scorches easily.
After pouring chocolate into cutter, press down on cutter with fingers and gently slide the cutter back and forth to settle the chocolate. The parchment paper should move with your cutter.