Toddler Activities: Hot Cocoa Cones
Description
Hot Cocoa "Ice Cream" Cones for Christmas Gifts or Stocking Stuffers. Add chocolate chips or Christmas Sprinkles with Marshmallow and top with a red gumdrop to make a cherry. These are great gifts for teachers and staff at a school.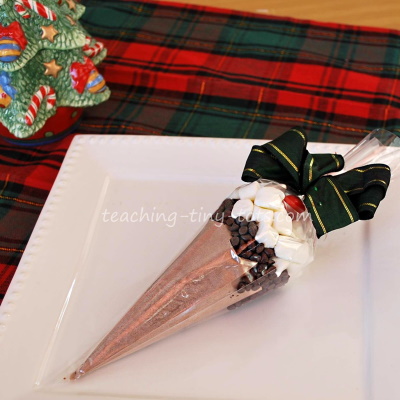 Materials
2 Clear Cone Shaped Pastry Bags
Small Bowls
Spoon
Two Twist Ties or two small rubber bands
Hot Cocoa Mix
Small Marshmallows
One red gumdrop
Mini Chocolate Chips
Ribbon
Small Gift Card
Other Materials
Small measuring cup with lip
Scissors
Steps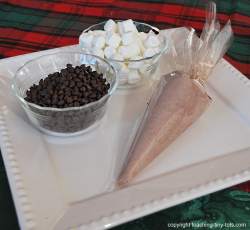 Put marshmallows in a bowl.
Put the Chocolate Chips in a second bowl.
Pour three or four packets of cocoa into one of the cone shaped pastry bags.
Twist right above cocoa and secure with a twist tie or small rubber band.
Trim extra plastic on top leaving about an inch.
Place cocoa filled pastry bag into another empty pastry bag.
Place three to four tablespoons of chocolate chips so that they are layered on top of the cocoa.
Add marshmallows to form the top layer.
Place Red Gumdrop on top.
Twist the bag shut and secure with twist tie or two small rubber bands.
Add a ribbon and gift card.
Tips and Suggestions
Cone Shaped bags were found at stores carrying cake decorating supplies.
The small no-tangle elastic hairbands for children work really well to secure bags.
If using a tin of cocoa, measure cocoa into a small measuring cup with lip for easier pouring.
Adult will need to hold bag when spooning in marshmallows so that they form a layer on top of the cocoa and don't slide down the side.
If you are making more than 4 of these, buying a can instead of individual packets will be less expensive
Small rubber hairbands work well in tying plastic bag and are less visible.
Suggested Note on Gift Tag:

Here is a gift that will warm you up. Just add some hot water, and stir into your favorite cup.