Candy Filled Carrot Treat Bags

Description
Cute Carrot shaped candy filled favors or treats. This makes goody bag treats for an Easter party or if you need an Easter Basket filler. Also a cute idea for your child to pass out at school if they celebrate Easter in class. We shared some suggestions for treat bags below. You can find them on Amazon and often at crafts stores. It may be a seasonal item.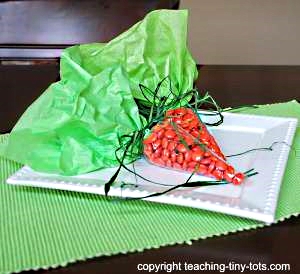 Materials
Disposable clear icing bags
Orange candy: M and M's (see other ideas below)
Green Tissue Square 10-12 inches
Twist Tie
Green Raffia or Ribbon
Useful Materials
Bowl to hold candies while filling
Styrofoam tray or mat for children to work on while filling bags...they will drop a few candies in the process.
Steps
Fill an icing bag with orange candies leaving a about three inches at the top.
Cut a piece of green tissue paper about 10-12 inches square. Find the approximate center and fold up on all sides.
Insert into bag and tie with twist tie to close.
Tie with raffia or ribbon to hide the twist tie.
Tips and Suggestions
Use a Styrofoam meat tray or plastic bowl for children to work on while filling bags.
Add a little tag with your child's name if it's for his/her class or make it a gift from the Easter Bunny.
Other Ideas to Fill Treat Bags
Cheetos
Goldfish
Candy Corn
Orange Jelly Bellies
Orange Peanut M and M's
Cheddar Popcorn
Orange Reese's Pieces Candies
For a healthy option: Mini baby carrots (refrigerate bag after making)
Educational Note
The Easter Bunny is a mythical character. It is said that the Easter Bunny brings baskets filled with colored eggs, candy and toys to the homes of children on the night before Easter. The Easter Bunny will put the baskets in a designated place or hide them somewhere in the house for the children to find when they wake up in the morning. The Easter Bunny can be compared to Santa Clause at Christmas since they both bring gifts to children on the eve of the holiday. Its origin is disputed but the Easter Bunny has been mentioned as early as 1600!
See here for Some Suggestions for this "Carrot Treat"
Other Easter Projects You May Enjoy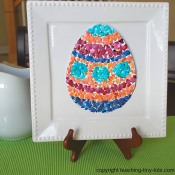 Eggshell Mosaic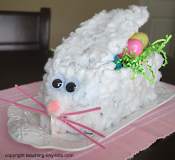 Milk Carton Bunny Basket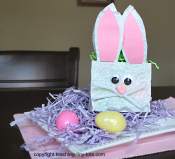 Bunny Goodie Bags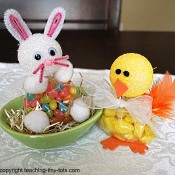 Jelly Bean Bunny