Bunny Easter Basket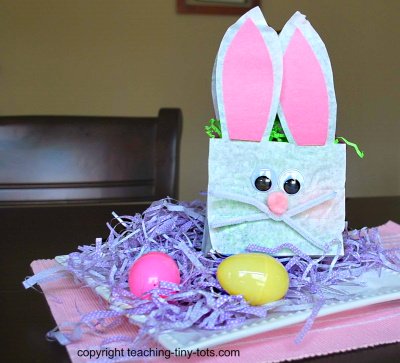 Description
Need an easy treat bag for an Easter Party or a quick classroom activity? Here is a cute lunch bag bunny to put treat in.
Materials
1 lunch bag (White is available in packs of 50 at craft stores or Wal Mart)
1 sheet construction, cardstock, cardboard or oaktag to make stencil from pattern you print.
1 sheet Pink Construction Paper
Pair of Wiggle Eyes
1 Cotton Ball
1-2 pipe cleaners
1 small pink pom pom or piece of pink foam, felt or pink marker for nose
Elmer's Glue or craft glue for easier, faster results
Scissors
Other Materials
Easter Grass
Easter Eggs or treats
Steps
Print pattern. Use pattern to cut out of cardboard, oaktag or a manilla folder for best results.
Using the thicker pattern, Line it up on the bag and trace the bunny ears onto the package.
Keeping the bag folded flat, cut out the ears.
Open the bag, on either sides of the bag you should have an "extra ear". Trim them off and you can either throw them away or glue to inside of the two back ears for more support.
Cut out two inner ears out of the pink construction either free hand or using the pattern given on the print out. Glue onto the front two ears.
Glue on the wiggle eyes.
Twist two pieces of pipe cleaner in an x and glue to bag. Craft glue will make this process much quicker. Glue nose on or right above the whiskers
Glue cotton ball on back of bag for tail.
Fill basket portion with grass
Glue tips of ears together to form the handle for the basket. Let dry.
Fill with colored eggs and Easter treats!
Tips and Suggestions
In this toddler activity, you can cut the sides of the bag first or do as we did and cut through the folded bag and have the extra two ears for additional support.
Fill with easter grass before gluing the tips of the ears together.
I have included a face in the event you want to simply cut and paste a face or draw one.
Other Ideas
Another cute toddler activity is making an Easter Basket using a half gallon milk or juice carton, cut the top half of the carton until you are left with 4 3/4" tall bottom half. Wrap a piece of construction paper around entire container. Using the pattern given, trace onto construction paper and decorate face as desired. Glue onto one side of milk carton. Using construction paper folded in half for strength or a piece of thin cardboard or oaktag, make a simple handle across the top. Fill with Easter grass and Easter eggs and treats. If its being made in a classroom, be sure to have children start collecting about three weeks in advance since many people purchase the plastic gallon containers for milk and juice.
Educational Note
The Easter Bunny is a mythical character. It is said that the Easter Bunny brings baskets filled with colored eggs, candy and toys to the homes of children on the night before Easter. The Easter Bunny will put the baskets in a designated place or hide them somewhere in the house for the children to find when they wake up in the morning. The Easter Bunny can be compared to Santa Clause at Christmas since they both bring gifts to children on the eve of the holiday. Its origin is disputed but the Easter Bunny has been mentioned as early as 1600!