Sugar Cookies for All Occasions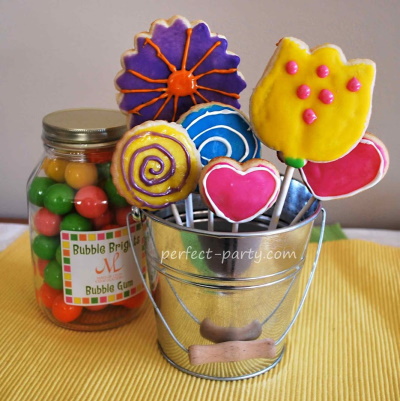 Description
Easy recipe with great results. We tried the pre made cookie dough and it's fine for simply baking and eating, but if you want to use cookie cutters to make fun shapes to decorate, the pre made dough spreads as it cooks, losing its shape. This toddler recipe is ideal for those wanting to use cookie cutters and add special decorations. Cookies were also able withstand the decorating efforts of four year olds without breaking. Makes about 25-30 three inch wide cookies. Amount will vary depending upon thickness you make each one.
Ingredients
1 1/2 cup butter softened
2 1/2 cups white sugar
4 eggs
1 1/2 teaspoon vanilla extract
5 cups all-purpose flour
2 teaspoon baking powder
1 teaspoon salt
Materials
Parchment paper
Large Bowl
Spoon
Cookie pans
Sprinkles for decorating
Cookie sticks available in craft stores if you want to make "lollipop cookies" or a cookie bouquet
Confectioners Sugar or Flour to keep dough from sticking
Steps
In a large bowl, cream together butter and sugar until smooth. Beat in eggs and vanilla.
Stir in the flour, baking powder, and salt. (Do not use the mixer) Cover, and chill dough for one hour in the refrigerator.
Place a piece of parchment paper on flat surface to roll dough on. Sprinkle with confectioner's sugar or flour if you prefer.
Roll out dough until it is 1/4 to 1/2 inch thick.
If dough is sticky, dust lightly with powdered sugar.
Press cookie cutters into dough. For best results peel excess dough away from the cut out shapes, then gently lift the cutter.
Place cookies one to two inches apart on cookie sheets lined with parchment paper.
If you are using sprinkles to decorate, sprinkle now or you can sprinkle on the icing if you plan on painting them.
If you are using cookie sticks be sure they are intended to be used in the oven and insert sticks about 2-3 inches in so that they are completely encased in dough and not poking out; patch with extra dough if necessary. Always put the sticks in before baking.
Preheat oven to 400 degrees F (200 degrees C). Bake 6-8 minutes in oven. Watch carefully as ovens vary and sugar cookies brown very quickly especially the pieces that have thin parts. Oven times will vary depending on how large and how thick the cookies are. The bottoms should be very lightly brown while the tops still white.
If you are using icing to decorate the cookies, let the cookies cool completely before icing. Here is the Sugar Cookie Icing Recipe we use.
Decorating Ideas
Individual Cookies
Wrap each cookie with cellophane bags or plastic wrap tie them with a with a colorful bag tie or twist and tape flat against stick. Embellish with ribbon.
Vase
Wrap in cellophane bags and arrange in vase with tissue paper. Try to arrange with each cookie at a different level. Do not over crowd.
Other Container
Find a piece of styrofoam that will fit at the base of your container (mug, watering can, pail, bucket, etc) Gently push the cookie sticks into the foam to create the bouquet. Place your tallest cookies in the center, so push the outer circle cookies deeper into the styrofoam so they are all visible.
Tips and Suggestions
If you are making different size cookies as we did, bake each size separately for best results.
You can reuse the parchment paper for additional batches of cookies.
Do not handle the cookies by the sticks until they have completely cooled.
If you only have one pan, lay out next set of cookies to be baked on parchment paper and transfer to pan when first batch comes out. This is an easy way to keep baking without stopping.
Cookie sticks come in a couple sizes. Be sure to use sticks made for cooking or they may burn and vary the sizes if you are making a bouquet. For small cookies we tried a pretzel stick.
Great for All Occasions
Shamrock Cookies
Cute Shamrock Cookies, perfect treat for Teachers! The glossy green really make these stand out. Bag these cookies in a clear cello treat bag and tie with a green ribbon for a cute presentation.
Fourth of July Star Cookies
The girls had so much fun painting that mommy decided to try a few and added some stripes and stars. The girls were able to add stars with a little guidance. Put in a vase, or package a few in a clear cello bag and tie with a bow. Definitely an eye catcher!
Christmas Sugar Cookies
Perfect for a treat or party! Package in a clear cello bag and give as a gift or as a stocking stuffer.