Spider Cookies for Halloween
Description
Have fun making this huge spider cookie! Add a couple spider decor and it's ready to serve or surprise
Ingredients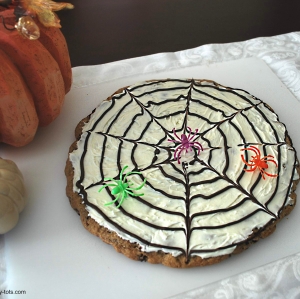 1 package or tub of refrigerated cookie dough

White Frosting

Baking chocolate or Nestle's Toll House Semi Sweet Chocolate Chips

Plastic Spiders (we found some at The Dollar Tree)
Materials
Pizza Pan
Foil
Shortening or Pam
Toothpick or Plastic Knife
Spatula
Quart size Freezer Zip Lock
Scissors
Steps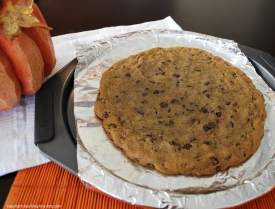 Follow directions on package. Tubs sometimes have specific directions for making large cookies. Directions given are from Nestle Toll House tub of Chocolate chip Cookie Dough.
Preheat oven to 325 degrees F or as directed on package
Cover a pizza pan with foil. Grease foil using shortening or Pam.
Press two cups of cookie dough into prepared pan until it is about 12 inches in diameter.
Bake approximately 15-20 minutes or until golden brown.
Cool for 10 minutes, remove from pan to wire rack to cool completely.
When cooled completely, frost with white frosting using spatula.
Place chips or baking chocolate into one corner of a freezer ziplock.
Microwave until just melted. Microwave times will vary with amount of chocolate and strength of microwave. Check at 15 second intervals and press chocolate in bag with your fingers to distribute heat. Do not overheat...chocolate scorches easily.
Cut a very tiny corner where you have placed the chocolate to make a small hole.
Drizzle chocolate in a spiral starting from the center.
Create cobwebs by alternately dragging a toothpick from the center to the edge, and from the edge to the center.
Add spiders and cut into pie shaped pieces to serve.
Tips and Suggestions
We have found plastic colorful spiders every year at The Dollar Tree. I think Walmart might carry some. You can also make your own spiders with gumdrops and black string licorice.
Make small cookies and decorate similarly. You can use your own cookie recipe or if you want a fast activity, the pre made dough is perfect! Keep the pre made dough chilled for best results until use.