Toddler Recipes: Pretzel Turtles
Toddler Recipes: Pretzel Turtles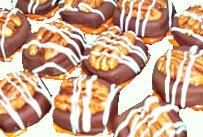 DESCRIPTION
Easy to make...perfect as party treats. Place in a clear gift bag and give as a gift to someone special.
INGREDIENTS
20 butter snap pretzels
20 chocolate covered caramels (Rolo's or Caramel Filled Dove)
20 pecan halves
White chocolate for drizzling
OTHER MATERIALS
Parchment lined cookie sheet (I used foil which worked fine but keep in mind foil retains heat.)
Small Freezer Ziplock for drizzling chocolate.
Scissors
STEPS
Arrange the pretzels in a single layer on a parchment lined cookie sheet.
Place one chocolate covered caramel candy on each pretzel.
Preheat oven at 170 degrees F
Place a chocolate on each pretzel.
Bake in oven for three minutes or until chocolate is soft. Test with small spoon.
Remove from oven and quickly press a pecan into the chocolate.
Melt white chocolate in ziplock bag. Heat until just melted and cut the smallest snip at bottom corner as you can for a nice fine line to work with. Drizzle white chocolate over the top.
Cool completely before storing in airtight container.
TIPS AND SUGGESTIONS
Use toaster convection oven to reduce energy usage.
To harden quicker, place in refrigerator to cool for 20 minutes or until set.
For gifts, place in clear gift bag and tie with a ribbon. Attach a gift card.
OTHER IDEAS
Use chocolate shown below instead of Rolos if you prefer it without the caramel. You can find this type of chocolate pieces at most grocery stores or at stores that sell lollipop and candy molds.