Toddler Recipes: Ice Cream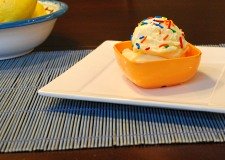 DESCRIPTION
This is one of the toddler recipes I used in in my classroom as a culminating activity. Recommended to be done with a couple parent helpers or 2nd grade and up. I have included this recipe because it doesn't involve any cooking or require an ice cream machines. Many children have older siblings who can assist with the "shaking".
INGREDIENTS
1 box Jello instant pudding (Chocolate or Vanilla)
Ice Cubes
1/4 cup sugar
2 cups milk
1 cup evaporated milk or Half and Half
salt (ice cream salt recommended)
Candy Sprinkles or chocolate topping
OTHER MATERIALS
2-3 Quart Heavy Duty Freezer Bags, 2 Heavy Duty Gallon Zip Lock Bags
Whisk
Large Mixing Bowl
STEPS
Combine pudding and the two cups milk in a large mixing bowl. Beat 2 minutes. Stir in sugar and evaporated milk.
Pour into 2 or 3 small Freezer Ziplock Bags. Put 2 cups ice cubes in large ziplock and about 1/4 cup salt.
Let out as much air as possible and shake, shake, shake. Shake about 10 minutes or until frozen. It will have a soft serve consistency.
TIPS AND SUGGESTIONS
Chill for 30 minutes before shaking.
Have the recipe written out and point out ingredients and steps as you go.
Line up ingredients on table to help reinforce sequencing skills.
Talk about salty and sweet and make a list of foods for each category.
OTHER IDEAS
Easy activity to make a book to go along with the recipe.
EDUCATIONAL TIP
This toddler recipe can be used as a culminating activity for a unit on liquids and solids. It can also be used as part of five senses unit.