Pizza Recipes
Description
We have experimented with all types of dough recipes and finally have found one that makes a great Deep Dish Pizza. It does take a little bit of time but the results are so worth it.
Pizza Sauce
You can use premade sauce but again making your own sauce just makes your pizza taste so much more like a "restaurant" pizza. This is our favorite recipe that we have used for years for simple muffin pizzas as well as home made pizzas. The honey adds a delicious sweetness, and the anchovy paste balances the sweetness without leaving any "fishy" taste. If you omit the anchovy paste, taste the sauce with 1 TBS honey and then if you want it sweeter add the second tablespoon. Here is a Printable of just our
Pizza Sauce Recipe
Ingredients
1 (6 ounce) can tomato paste
3/4 cup (6 fluid ounces) hot water (110 degrees F)
3 Tablespoons grated Parmesan cheese
1/2 teaspoon garlic powder
2 Tablespoons honey
1 teaspoon anchovy paste
3/4 teaspoon onion powder
1/4 teaspoon dried oregano
1/4 teaspoon dried marjoram
1/4 teaspoon dried basil
1/4 teaspoon black pepper
1/8 teaspoon cayenne pepper (optional)
1/8 teaspoon dried red pepper flakes (optional)
Directions
In a small bowl combine all ingredients, mix well and break up any clumps of Parmesan cheese. Sauce should sit a minimum of 30 minutes to let the flavors meld together. Spread over pizza dough as desired.
Detroit Style Pizza
Description
This pizza recipe takes a few extra steps but it is the first one in which the dough makes a thick crust that our family enjoys. It is excellent for a "home made" pizza. We were excited by the results. It is a Detroit Style Deep Dish Pizza Crust. We cook it in either two #8 cast iron pans or a rectangle Lloyds Pan that we just tried it out with excellent results. (see link below).
Ingredients
2 Generous cups of unbleached all purpose flour
1 teaspoon Saf Instant Yeast (or similar)
1 1/2 teaspoon salt
1 cup water minus 1 1/2 teaspoons
Mozzarella Cheese, toppings of choice
Extra-virgin olive oil
Directions
Combine flour, yeast and salt in a medium bowl. Stir to combine, then add the water.
Using a hand mixer with a dough hook, mix at medium-low speed until the dough forms a shaggy ball. Let the dough rest for 10 minutes.
After resting, mix with dough hooks for 10 minutes until the dough becomes smooth.
Form the dough into a tight ball, set in the bottom of the bowl and cover with plastic wrap. Set in a warm place until dough has roughly double in volume. This will take approximately 2 hours.
Pour a couple of tablespoons of olive oil in each pan. We use two #8 cast iron skillets or one Detroit-style anodized pan. (picture with link below).
Transfer the dough ball to the pan, if it is sticky or lost the ball shape add a bit of flour and reshape.
Coat your dough ball in the olive oil and then press from the dough to the edges of the pan.
It will keep shrinking, but cover it with plastic wrap and let dough relax for 30 minutes.
Adjust the oven rack on the lowest position and preheat the oven to 500 degrees.
Stretch dough to edges and corners again without tearing if possible. Stretch it slightly up the sides so when it retracts it will be close to the edges of the pan.
Cover and get your toppings of choice ready.
Uncover pizza dough and press down on the dough to remove any large air bubbles.
For a traditional style pizza, spread pizza sauce leaving a one inch border of crust.
Cover entire pizza with mozzarella cheese even on the crust. This will brown nicely as you bake it.
Add pepperoni and/or other toppings of choice.
Transfer to oven and bake for 12-15 minutes until the edges are black and bubbly and the cheese on the crust turn light brown.
Run a metal spatula or butter knife all around the edges of the pan to loosen the pizza. Carefully lift it out and slide onto a cutting board. Cut pizza and serve.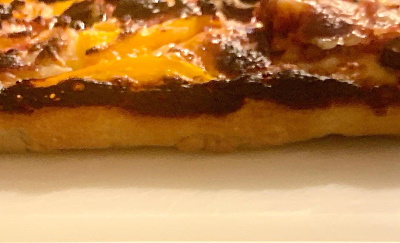 Only the top edges will blacken but it does not taste burnt...it will give your crust a nice crisper texture. 

Note
To form the pizza in the Detroit style, form pizza crust as above and layer the toppings in this order. Lay half of the pepperoni over your dough. Top with cheese spreading it evenly all the way to the edges of the pan. Add the remaining pepperoni and other toppings of choice. Spoon sauce over the surface in 3 even rows. The sauce will not spread when baked.
Easy Muffin Pizza
One of our first pizza making activities with the girls when they were young. They were so excited to eat what they made that this became a favorite lunch. You can just buy jar pizza sauce to make it even easier.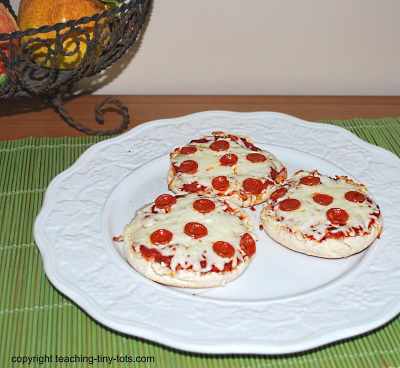 Ingredients
1 English Muffin or Mini Bagel split in half
Pizza Sauce (pre made like Boboli orRagu or see recipe above)
Mozzarella Cheese
Pepperoni, olives, chopped tomatoes, mushrooms, green peppers (optional)
Materials
Bowl and spoon for sauce
Bowl(s)for cheese and other toppings (pepperoni, olives, tomatoes)
Toaster Oven (easiest)
Directions
Lay out split muffins or bagels on dish.
Have toppings in separate bowls or arrange on a plate.
Line toaster oven pan with foil for easier clean up.
Toast english muffin or bagel for a crispier "crust". Let cool a little if your child is putting together their pizza.
Spoon on sauce carefully and add desired topping
Toast in toaster oven or in regular oven at 375 degrees F for 10 minutes in preheated oven or until cheese melts and muffin is lightly browned on the edges.