Making Butter in the Classroom
Description
This was done as a classroom activity with children in Kindergarten, Second Graders and Fourth Graders. It was tailored to the grade and done as a culminating activity on liquids and solids or after reading The Butter Battle Book by Dr. Suess. It can be a great hands on activity for toddlers with parental supervision.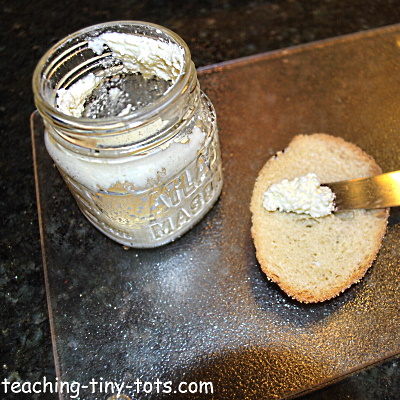 Ingredients
1 small carton of whipping cream.
Crackers (Club Crackers taste great with butter)
Salt )
Materials
Baby Food Jar or small mason jar. Small jars work best so that small hands can hold firmly. You could also put the jar in a ziplock if there is a concern for dropping the glass jar. The reason a glass jar is used is to be able to see the transformation from a liquid to a solid.
Pour whipping cream into a jar about half full. You need space for the cream to be shaken.
Shake the jar up and down until solid butter forms. This will take a few minutes and it will be noticeable when the butter forms so keep shaking.
After butter forms, you will have some liquid but a definite solid shape. Add a sprinkle of salt.
Spread on crackers or bread and enjoy! Chill leftovers.
Tips and Suggestions for Class Activity
Take turns of 25 shakes each person so as not to get tired.
It will take quite a few shakes to get a solid formed but it will be very apparent when the liquid starts to turn into a solid. The jar will first be coated in the cream and as the butter forms you will be able to see into the jar.
One year I had the children test how quickly the butter formed using different sized bottles. The smaller bottles worked the best.
Note
If the child is very young, an adult will have to do most of the shaking! You might want to make one bottle for the entire class letting each child have a turn shaking. You can make some before hand so that everyone can taste it after. As mentioned above, you might want to place bottle into a freezer ziplock to make it easier to grasp and shake with your child. The main idea is for your child to feel like she or he helped to make the butter
Educational Tips
Make a Book
When I did this activity with older children, we tallied the number of shakes and compared each group's results on a class graph.
Take pictures of the different steps and make into a book
Here are a couple printables to show the steps or a blank form to make a book