Rice Krispie Cookies 
Description
An easy but delicious and buttery cookie that we love! A co worker brought some to a grade level meeting and I was in heaven! This is a fun one for kids to help make.
Ingredients
1 cup margarine or butter softened (recipe called for either but we use butter)
1 cup white sugar
1 egg
1 1/4 cup all-purpose flour
1 teaspoon baking powder
Rice Krispies cereal
Materials to Use
Cookie Sheet
Wire rack to cool
Two bowls, One large for dough and one smaller for Rice Krispies
Wooden spoon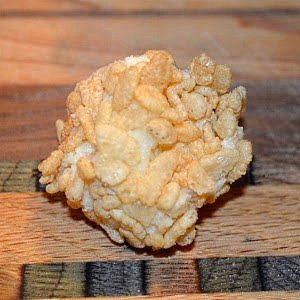 Steps
Preheat oven to 325 degrees F
In a large bowl, cream margarine and sugar.
Add egg.
Add dry ingredients.
Drop rounded teaspoons into bowl of Rice Krispies and roll gently to coat.
Place on un-greased cookie sheet about 3 inches apart.
Bake 15 minutes in the preheated oven until edges are delicately brown.
Cool slightly on cookie sheet before transferring to wire racks.
Tips and Suggestions
Oven time will vary so watch carefully for cookie to turn golden with edges slightly darker and adjust your time as needed.
Be sure to space about 3 inches apart because it will spread as it cooks.