Breakfast Casserole

Description
A delicious breakfast casserole perfect for any holiday gathering. It is very flexible and you can add or omit items to suit your family's tastes. Prepare this ahead of time and bake right before serving. It can be reheated in the microwave or toaster oven. Servings: 8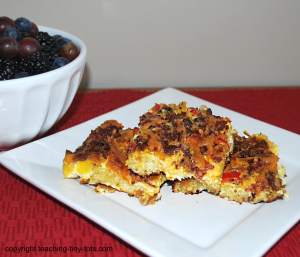 Ingredients
12 slices bacon
1/4 cup butter, melted
2 1/4 cups grate cheddar cheese
3 cups of croutons
6 eggs
1 3/4 cups milk or half and half
1 bell pepper (red, green add nice color) diced
2 teaspoons prepared mustard
Salt and pepper to taste (optional)
Other Items
9 x 12 pan
Pam or other nonstick cooking spray
Whisk
Small microwaveable bowl to melt butter
Medium bowl
Paper Towels
Steps
Cook bacon over medium heat in skillet until evenly brown. Drain on paper towels, crumble and set aside.
Spray 9 x 12 pan with Pam or other nonstick spray. Line with the croutons.
Melt butter in small dish in microwave. Drizzle over croutons
Sprinkle two cups of the grated cheese over the croutons.
Preheat oven to 325 degrees
Crack eggs into medium bowl and whisk to break up the egg yolks. Add milk or half and half and mustard. Mix.
Add diced peppers and beat until well-combined.
Pour over the croutons and the cheese. Sprinkle with crumbled bacon and remaining 1/4 cup cheese.
Bake in preheated oven for 30-40 minutes. Remove from the oven and allow to stand 10 minutes before serving. Cute into squares and serve.
Tips and Suggestions
Use two types of bell peppers for added color.
Use two types of cheese for variation
For additional flavor, let sit overnight in the refrigerator
Be sure to mix in the mustard well
I omit the salt and pepper since the bacon provides enough salt for our taste