Bruschetta Toast 
Description
This bruschetta toast was a huge hit with the family... It also makes a great appetizer or side dish. We have made it using sliced Italian bread, fresh baked Sourdough bread and Naan bread.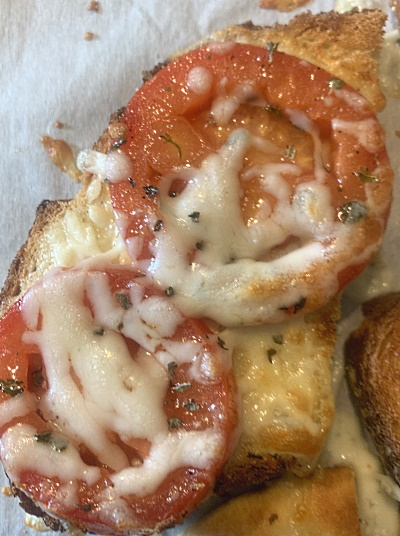 Ingredients
3 Roma Tomatoes, sliced thin
2 Tablespoons Olive Oil
2 Tablespoons Balsamic Vinegar
1/2 teaspoon dried parsley
1/4 teaspoon dried oregano
1/8 teaspoon black pepper
1/8 teaspoon garlic powder
3 Tablespoons Mayonnaise
3 Tablespoons grated Parmesan Cheese
4 Slices of Italian, Sourdough or Naan bread
Shredded Mozerralla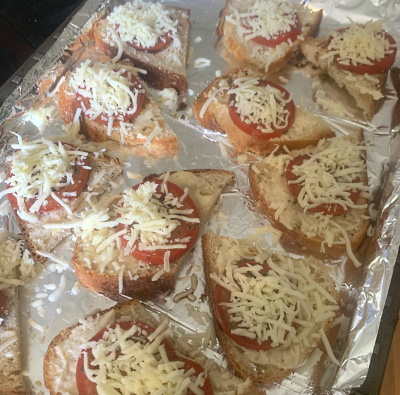 Steps
Preheat oven to broil
Slice bread or naan in half and toast
Slice Roma tomatoes in thin slices
In a small bowl add olive oil, balsamic vinegar, dried parsley, dried oregano, black pepper, garlic powder. Stir to combine.
Add tomato slices mixing occasionally to coat marinade over all the tomatoes.
Mix Mayonnaise and Parmesan in small dish.
Line a baking sheet with foil or parchment paper.
Place toasted slices of bread on the sheet.
Spread the mayonnaise mixture on each piece of toasted bread. Coat entire piece in a thin layer.
Place 1-2 slices of tomato on each bread.
Sprinkle mozzarella on each tomato
Broil for 2-3 minutes until cheese and edges of toast start to brown. Watch very closely because it can go from toasted to burnt in just 30 seconds.
Tip
Toast the bread or the balsamic mixture with soak through the bread and make it soggy. We used a toaster oven so we could toast all pieces at once. You could also put it in the oven as it preheats for a couple minutes but watch to see it doesn't get over toasted/burnt. We like Roma tomatoes the best for this recipe because they are a little firmer and hold together well after slicing. Some of the larger tomatoes have a lot of liquid in it and fall apart when sliced thin.
Other Bruschetta Toast Ideas
We also make a bruschetta with crostinis. You can find crostinis at any grocery store with a deli or you could make your own using a French baguette. You wouldn't need to toast in this case as they are crispy after cooking in the oven. If you use crostinis, dice the roma tomatoes instead of slicing. Put a small spoonful of marinated tomatoes on each crostini. This is a great appetizer.
If you are interested in taking bruschetta toasts to an event or potluck, keep the bread and the tomatoes separate. Broil the tomatoes topped with mozzarella in an oven safe dish for a couple minutes and bring in a insulated tote. Guests can spoon this mixture onto the crostinis themselves. This will keep the tomato mixture warm as well as the crostinis crunchy. Also it is much easier to pack and bring. We did this for the girls golf end of season celebration and it worked very well...nothing to take home either!.