Make Bird Biscuits and Fruit Medallions

Description
Make fun shaped bird treats and fruit medallions to hang outside! Easy recipe that makes cute treats to hang outside for the birds. Cute as a small gift too! Recipe makes about 3 bird treats. (Will vary with cookie cutter size and shape)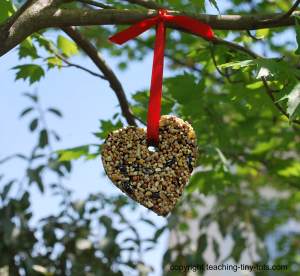 Materials
3/4 cup birdseed

2 Tablespoons Flour

3 Tablespoons Water

Metal Cookie Cutter three inches across one inch high (simple shapes are best)

Ribbon

Straw (cut in three pieces)
Other Materials
Foil

Measuring Cup (we use this to mix seed in as well)

Measuring Spoon

Spoon

Non stick cooking spray like Pam
Steps
Place birdseed, water and flour into small bowl or large measuring cup. Mix all ingredients well with spoon.
Cut straw into three pieces about 2-3 inches long.
Line a cookie sheet or baking pan with foil.
Spray inside of cookie cutter with Pam or cooking spray.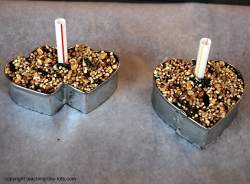 Place cookie cutter on the foil and hold straw in place about 3/4-1 inch from top. (Adult or second child should hold straw while one scoops seeds into the cookie cutter)
Spoon seed mixture into cookie cutter around the straw.
Press with back of spoon or fingers firmly on the seeds in the cookie cutter.
Preheat oven to 170 degrees F
Place cookie sheet in oven and bake for one hour.
Remove from oven and let cool completely before handling. Press biscuit gently out of cookie cutter.
Slide ribbon through hole and leave a few inches for tying
Tips and Suggestions
Best Cutters
We found the three inch (height and width) cookie cutter worked the best.
Use a simple shape for best results (heart, circle, etc) We tried a star but it didn't hold the shape as well.
We tried a 4 inch heart but it is heavier and the weight seemed to make it more fragile around the ribbon area when hung.
Other Tips
Be sure to make the hole at least 1/2 to 3/4 inch below the top where it will be hung. We found the birds seem to like to eat from the top.
If you are using a soft ribbon and having difficulty threading, leave straw in and slide ribbon through it, then remove the straw.
Birdseed can cause small plants to grow under where they are hung! So keep this in mind when selecting placement.
Other Ideas
Rice Cake Medallions
Materials
Rice Cakes

Ribbon, String or Yarn

Skewer

Suet Recipe

2 Tablespoons Peanut Butter

2 Tablespoons suet or bacon drippings (strained)

2 Tablespoons Flour

2 Tablespoons Oatmeal

2 Tablespoons cornmeal
Poke a hole in the rice cake with skewer. Using skewer, poke string or thread through the hole. Leave untied.
Mix all ingredients in small bowl. Mix well, if it seems to thin, add a little more flour.
Place a thick layer of suet on rice cake
Place fruit on layer of suet.
Refrigerate for an hour to set. Tie onto tree branch!
Educational Tips
All birds have feathers. Birds are the only animals that have feathers Feathers are very important to birds. Soft down keeps them warm, wing feathers allow them to fly and tail feathers are used for steering. The color of the feathers can be used to camouflage the bird. Colors of feathers often distinguish the male from the female.