Hawaiian Style Mochiko Chicken
Description
Having grown up in Hawaii, I often miss local favorites like Mochiko Chicken so I was determined to make it at home. We tried several recipes online and found one we liked and made a few of our own tweaks to make it like the one I used to enjoy growing up. Hope you enjoy it too!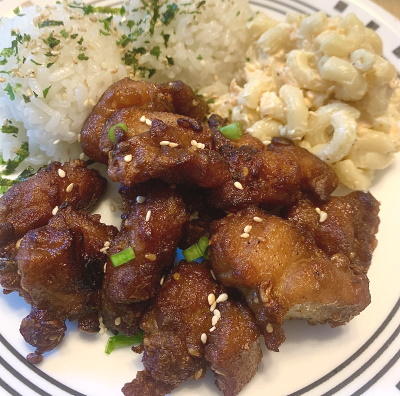 Ingredients
5 lbs boneless, skinless chicken
1/2 cup Soy Sauce (we like lower sodium Kikoman)
1/2 Sugar
1/2 cup Mochiko Powder (we like Koda Farms)
1/2 cup Cornstarch
4 eggs beaten
4 cloves garlic, minced
1 teaspoon grated Ginger
1 teaspoon salt
1/4 cup finely chopped green onion
1 Tablespoon Sesame Seeds
Oil for frying (Crisco)
Directions
In a large bowl mix all ingredients (except chicken and oil).
Cut chicken into one inch pieces. I leave the little pieces of skin on it for a little extra crispiness.
Put chicken into the large bowl and coat all the pieces with the marinade. Cover with Saran Wrap and put in the refrigerator for at least 5 hours or over night.
Take chicken out 30 min prior to cooking to bring the temperature close to room temperature so that when you cook the chicken, it won't bring the oil temp down too low.
Heat about 2-3 inches of oil in wok or deep skillet. Use a thermometer for best results.
Heat oil to 350 degrees F. Place about 5-6 pieces in the hot oil carefully with tongs making sure not to splash the oil.
Cook until dark golden brown. Let drain on paper towel or on wok rack for a couple minutes and I put it on a foil lined tray in the oven at lowest setting to keep warm.
Garnish with a sprinkle of sesame seeds and green onion if desired.
5 lbs is enough for two dinners for 4 of us but it keeps well in the refrigerator for the next day and we think the flavors stand out a little more the next day. We eat it cold or you can warm up in a toaster oven, or even microwave. I also have air crisped it for about 10 minutes at 300 in the Foodi.