Roasted Chicken and Veggies

Description
My girls LOVE this dish...so easy and full of flavor and color. We roast our favorite veggies with chicken tossed with herbs and olive oil. Great for a quick dinner. You can even prep ahead and leave in the refrigerate to marinate until ready to bake. Use whatever chicken or veggies you have on hand to make this easy dish.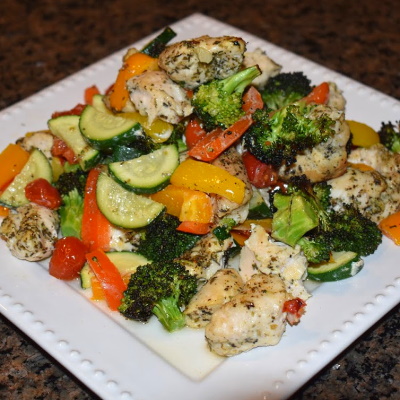 Ingredients
1 lb thin sliced chicken breasts, tenderloins or boneless skinless thighs cut into small bite sized pieces.
1 cup broccoli florets chopped (fresh)
1 medium zucchini chopped
2 small peppers (red, orange or yellow)
8-10 cherry tomatoes
1 1/2 tsp Italian seasoning
1 teaspoon garlic powder
1 teaspoon salt
2 TBS olive oil
Note: You can use 4-5 cups veggies of your choice but we listed our favorites and how much of each that will approximate 4-5 cups. So feel free to omit or add more of your favorite veggie. Just have to say that broccoli is amazing roasted. We also sub the 1 tsp salt with 1/2 tsp Lawry's Seasoned Salt and 1/2 tsp of Lawry's Garlic Salt.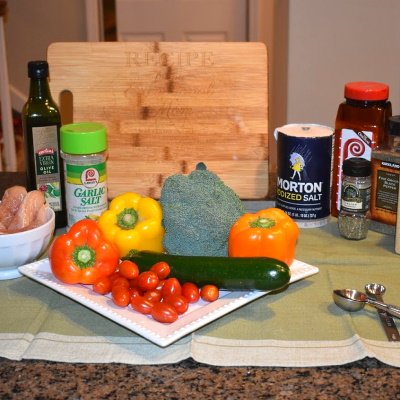 Steps
Pre-heat oven to 450 degrees
Line a baking sheet with aluminum foil or parchment paper (preferred)
Cut chicken into bite sized pieces and put in gallon bag.
Cut veggies as listed or of your choice for a total of 4-5 cups. Add to the chicken in gallon ziplock bag. since it all cooks together for the same amount of time, we add the chicken and the veggies all together.
Add the olive oil and spices and shake till coated.
Spread on sheet in a single layer for best results.
Bake for 12-15 minutes or until the veggies are very slightly charred and chicken is fully cooked. We cut into the largest piece to check.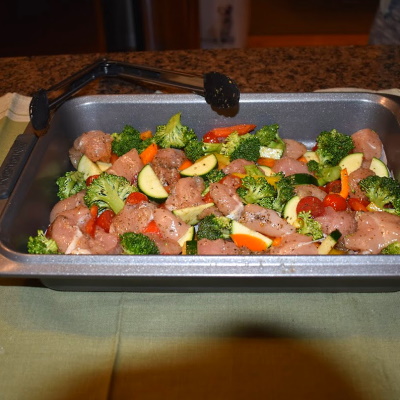 Note: See in the photo below, the broccoli and tips of chicken and veggies are very lightly "blackened". This gives a lot of flavor...does not taste burnt at all however, watch your oven very closely because at 450 degrees it can quickly turn from lightly charred to burnt in a minute.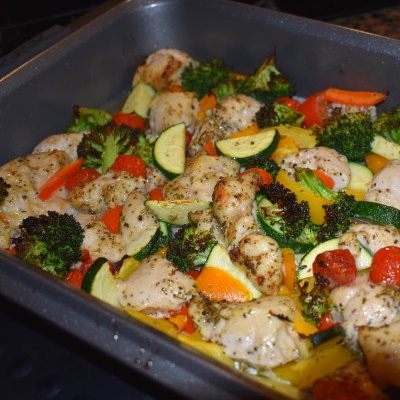 Please note that the above Nutrition Facts are based on the ingredients listed in the recipe and any variations may change the values.