Apple Chips 
Description
Delicious, naturally sweetened snack with a hint of cinnamon makes this a wonderful healthy treat.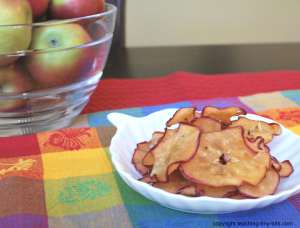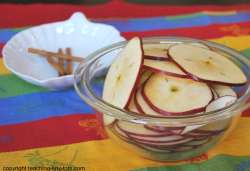 Ingredients
2 Large Apples (Gala or Fuji recommended)
2 cups 100% apple Juice
1 cinnamon stick
Other Items
Mandoline or serrated knife (ADULT ONLY)
Two cookie sheets or pans
Parchment paper to line cookie sheets.
Large pot
Slotted Spatula or tongs
Paper Towels lined plate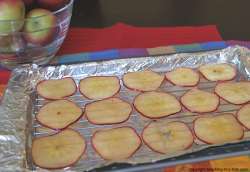 We used a rack the first time and the apples were sticking to it.  We have much better results with a parchment lined cookie sheet. 
Directions
In a large pot pour 2 cups of apple juice and add cinnamon stick. Heat until it boils.
Meanwhile, slice 1/2 inch off the top and bottom of the apple and discard.
Slice apple into 1/8 inch slices.
Drop slices carefully into boiling juice and cook for 5-6 minutes or until slices appear translucent and lightly golden.
Preheat oven to 250 degrees F
Line cookie sheet with parchment paper or a wire rack.
With slotted spatula or tongs remove apple slices and placed on paper towel lined plate.
Place the apples slices in a single layer on parchment lined cookie sheet without overlapping.
Bake 40-60 minutes turning over after 30 minutes for "softer apple chips" or bake for 1 1/2 hour-2 hours turning over every 30 minutes for crispier apple chips.
Remove from oven and let cool completely before storing in airtight container.
Tips and Suggestions
The best apples for dehydrating is Gala or Fuji. Both are sweet apples that make your dried apples taste like they are sweetened. Other good options are Golden Delicious , Honeycrisp and Fuji apples. If you prefer less sweetness in your dried apples, go with Granny Smith.
A mandoline makes it very easy to slice thin and evenly. If you do not have one, a good serrated knife may work.
The thinner the slices, the crispier it will get.
Use parchment paper for best results. Racks may cause sticking of the apples.
We baked it for the 50 minutes and it came out a soft, chewy consistency with the edges having a slight crispiness. Very sweet and tasty...girls loved it!
Other Methods of Dehydrating
We recently bought a foodi and plan to try it soon! We dehydrated chicken for the pups and made beef jerky so we know it does an excellent job. We will post our results here once we try it.
Educational Note
An apple begins to ripen when it is picked. For home storage, most varieties of apple can be stored for approximately two weeks in a pantry. If it is stored in the refrigerator it can last between 6-8 weeks. Some types of apple, like the Granny Smith and Fuji, have a little longer shelf life.
Apple Nutrition Facts
One medium 2-1/2 inch apple, fresh, raw, with skin
Calories 81
Carbohydrate 21 grams
Dietary Fiber 4 grams
Soluble Fiber
Insoluble fiber
Calcium 10 mg
Phosphorus 10 mg Iron .25 mg
Sodium 0.00 mg
Potassium 159 mg
Vitamin C 8 mg
Vitamin A 73 IU
Folate 4 mcg
The nutritional value of apples will vary slightly depending on the variety and size.
Source: USDA Nutrient Data Laboratory