Easy Instant Pot Greek Yogurt Recipe

Description
This is a very easy recipe for making yogurt in the 6 quart Instant Pot with the Yogurt Setting. It uses 3 main ingredients and just add toppings of your choice or enjoy it plain. It yields approximately 6 1/2 cups.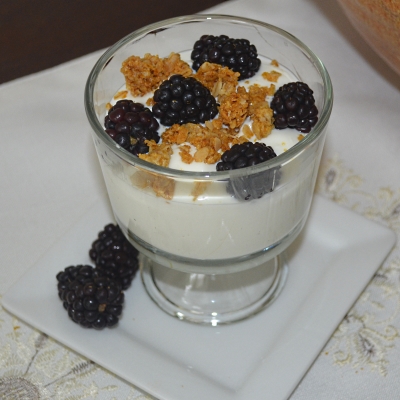 Instant Pot 6 Quart Model
This recipe is only for the Instant Pot with the Yogurt Setting.
Ingredients
Fairlife 1/2 Gallon Whole Milk
1 cup Natural Bliss in Sweet Cream or Vanilla Flavor
2 Tablespoons Fage 2 % Yogurt (must be freshly opened for the cultures)
Steps
Add the entire 1/2 gallon of Fairlife Milk to the pot.
Whisk in 1 cup of Natural Bliss
Whisk in 2 Tablespoons of Fage Yogurt (Must be a freshly opened container)
Remove the inner seal of the Instant Pot ring as it is not needed and may have odors from cooking other food.
Lock the lid onto the Instant Pot and press YOGURT. The Instant Pot will beep and count up to 8 hours. This was the perfect time for our taste. If you leave it longer it will become more tart. If you do it for 7 hours or less it will become a liquid like consistency like a drinkable yogurt.
After 8 hours the Instant Pot will beep, remove lid, take out the pot carefully and cover with Saran Wrap or Glass Lid and place undisturbed in the refrigerator for 4-6 hours. Do NOT stir before cooling in the refrigerator.

After cooling, stir gently and add toppings of your choice or enjoy as it is. The Bliss adds just a touch of sweetness. It will stay fresh about 2-3 weeks in the fridge. This recipe makes approximately 6 1/2 cups. If this quantity is too large, try making a few freezer pops. See our picture below.
Sweetener Options
We tried it plain as well as adding a few sweeteners to change the flavor including Hershey's Caramel Syrup and Jello Powder. Here are some ideas for changing up the flavor.
Vanilla Extract
Jello Powder ( we tried no sugar powder but some people prefer natural sweeteners
Fruit
Granola
Hershey's Caramel or Chocolate Syrup
Maple Syrup or Honey
Dried Fruit
Crushed Grahams or Oreos
Crushed Candies like Butterfinger and Snickers
Small Candies like Mini M&M's or chocolate chips
Nuts for those not food sensitive
Condensed Milk
We used Hersheys Caramel Syrup to make some yogurt pops. We filled the popsicle mold and froze them. If the pops don't release right away, run some warm water on the bottom.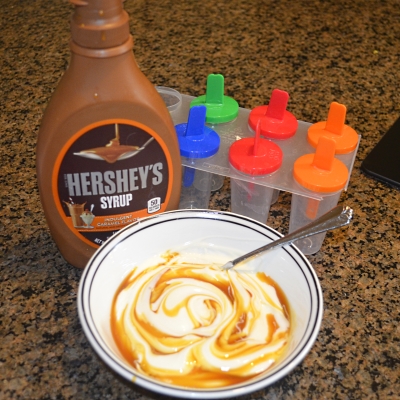 Easy lunch snack...add a few blackberries, sliced strawberries or blueberries. For a sweet topping use granola crumbles, mini M&M's, crushed Oreos or graham crackers.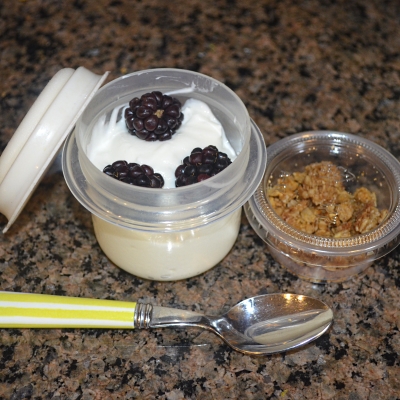 Important Notes
If you select a different milk it must be ULTRA PASTEURIZED. Fairlife will produce a slightly thicker result because it has more protein that some of the other Ultra Pasteurized Milks.
Yogurt must be just opened for best results.
Adding more than one cup of Bliss will create a thinner consistency of yogurt. We tried 1 1/2 cup and it was noticeably thinner.
If you add sweeteners during the Incubation process (the 8 hours in the Instant Pot) it can slow down the culturing process.
You may see some grainy textured yogurt on the bottom of the pot after the Incubation process...this is normal. Don't mix that into your yogurt for best results.
Want It Thicker?
Strain your yogurt using cheesecloth or a coffee filter in a colander over a bowl up to 12 hours or until you get the consistency desired. A much easier method if you do this on a regular basis is to get a
European Yogurt Strainer
.