Heath Cake 
Description
A yummy layered dessert with chocolate cake, pudding and whipped topping with crushed Heath or Butterfinger sprinkles.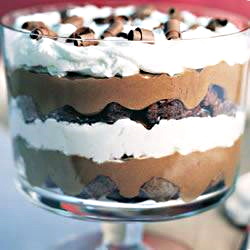 Ingredients
1 box chocolate cake mix.
1 box instant chocolate jello pudding mix
1 8 oz frozen whipped topping, thawed
1 bar candy (Heath or Butterfinger)
milk
Other Items Needed
9 x 13 pan or as directed by cake mix.
Trifle dish or small dish to serve
Steps
Bake cake as directed.
Mix pudding mix with half the amount of milk. Add a little more if it is too thick.
Let cake cool and cut into small pieces. Lay in a single layer and bottom of trifle dish
Spread half of the pudding mixture on the cake layer.
Spread half of the whipped topping next.
Repeat layers. Sprinkle Heath candy pieces or Butterfinger pieces on top. If you will be serving later...sprinkle the Heath right before serving. It can melt a little otherwise and color the white of the whipped topping.
Tips and Suggestions
Instead of frozen whipped topping, whip a half pint of heavy cream for a richer taste.
If children are helping, you can just make a single layer right in the pan when cake has completely cooled. Make sure to layer in this order for best result: cake, pudding, whipped topping, candy pieces.
Other Ideas
Use brownies in place of cake
Sprinkle various types of candies according to occasion...pastel sprinkles for Easter, Red Hots in a heart shape for Valentines, etc.
Make it mini trifle dishes for individual servings
Heath Layer Cake
Girls designed a Heath Layered cake. They used circle cutters to make the different sized layers and they frosted the chocolate cake alternating whipped topping and the pudding mixture and sprinkled the Heath Crumbles right before lighting the candles. It even sliced well!.