Chocolate Covered Strawberries
Description
Fresh, ripe strawberries dipped in milk and dark chocolate. Drizzle some with white chocolate to make it extra fancy.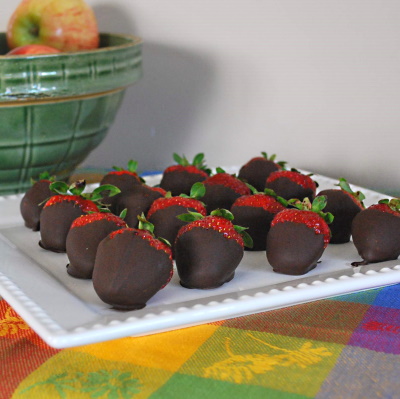 Ingredients
1 pint fresh ripe strawberries with leaves and stem if possible
4 oz White Chocolate, Semi Sweet Chocolate Hersheys Morsels or Baker's Chocolate
Materials
Wax or Parchment paper
We love this Double Boiler Bowl. We purchased the smaller one but I think the bigger one would be a much better more versatile size. It is easy to clean up after and you don't have to worry as much about scorching the chocolate as when you microwave chocolate. We purchased the electric melter by Wilton which worked well but after the second broke we opted for this simple Stainless Steel Bowl. You can always use a Microwave Safe Bowl and monitor it closely.
Spoon
Toothpicks if the strawberries do not have long stems to hold. Note that some strawberries are a little hollow in the middle so the toothpick method sometimes isn't easy to use.
Steps
Wash strawberries and let dry leaving leaves and stems intact.
Melt chocolate in bowl. Since microwaves vary, times will vary. Heat until just melted. Chocolate should be warm not hot. Chocolate scorches very easily and will taste burnt if heated too long. Microwave 60 seconds on 50% power, stir well, and repeat 30 seconds at 50% power until melted.
Dip and roll so chocolate covers entire strawberry leaving a little uncovered at the top. Gently swirl strawberry to allow excess to drip off.
Place on waxed or parchment paper and for best results refrigerate until ready to eat.
Tips and Suggestions
You know your toddler best and will have to determine how much he or she can assist with. Chocolate should just be warm...it will get on their fingers and hands.
With children we found that a very small microwaveable dish works well. We put 3 squares of Baker's Chocolate in it and it was just the right height to dip easily.
Guide their hand when dipping if necessary.
Strawberries with stems are easier to hold or with firm green tops. If not use a toothpick to poke in the top to hold. Some strawberries have a slightly hollow center so a toothpick doesn't always work.
FRESH picked strawberries are incredibly sweet! If you can find a place to pick strawberries, it is a fun experience and with that many you can also make jam like we did in the recipe shown below.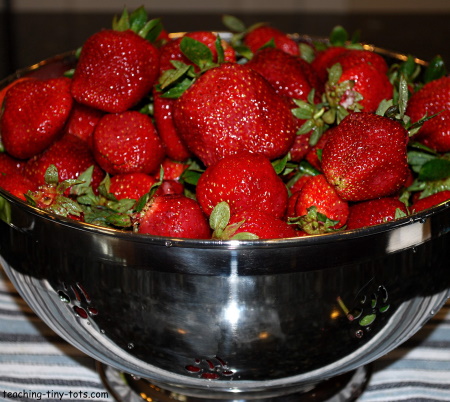 Strawberry Jam Description Have a lot of strawberries? We had several buckets we picked from a local Strawberry farm. We made an easy delicious fresh Strawberry Jam after the Chocolate Dipped Strawberries. This is just for making a small batch to be eaten right away. There are many other recipes for processing and sealing for larger quantities. We just like the simplicity of this recipe for immediate consumption.

Ingredients

1 pound of Strawberries with leaves/stems removed.
2 cups white sugar
1/8 cup lemon juice

Steps

In a large bowl, crush the strawberries in small batches until you have 2 cups of smashed strawberries
In a saucepan, add crushed strawberries, sugar and lemon juice
Stir over low heat until the sugar is completely dissolved.
Increase the heat to high and bring the mixture to a full boil. Stir continuously until the mixture reaches 220 degrees F (108 degrees C)
When it cools, transfer to a glass jar like a mason jar.
Refrigerate